Online Panel (Webinar):


Public Speaking for Writers:
Overcoming Your Fears and Making the Best Impression
with Clinton Young

Tuesday, October 26, 2021
6:00 to 8:00 p.m. Pacific (note the earlier time)
IWOSC members – FREE
Non-members – $15
Jump down to register
Registration closes at noon, the day before this meeting.
Via Zoom



In today's era of Twitter, Instagram, Facebook, and YouTube, having a public presence, brand, and followers is a must.  And even traditionally published authors, and journalists for "name" publications — let alone self-published or small-press authors and freelance writers — are now required to do their own work promoting themselves publicly.   Not to mention the fact that one of the best ways of earning or supplementing a writer's income is to hit the lecture circuit, conferences, and speaking gigs.

But what if the very idea of standing up in front of a live audience is enough to make you need a trigger warning?  How does one stare into the steely eyes of a TV or internet camera without freezing up?   And even if you're not afraid of standing up and giving a speech, how do you put your best foot forward, convey what you want to say artfully and entertainingly, make a good impression, and have the audience eating out of the palm of your hand?

This month, IWOSC is proud to present veteran public speaking coach and renowned motivational expert CLINTON YOUNG, as he shares some top tips, ideas, and secrets. Mr. Young gives highly sought-after speaking clinics and seminars across the country, and we are indeed lucky to have him scratching the tip of his formidable iceberg of expertise, for this month's motivational and inspirational program.

Our special guest is: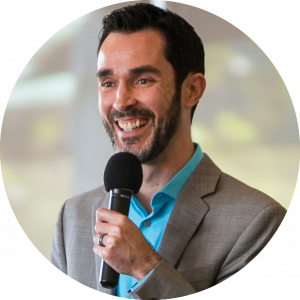 Clinton Young
Clinton Young is a Globally Renowned Courage Speaker and Mentor specializing in helping growth-seekers overcome failure, fear, and doubt. His work enables the courage and confidence to unlock your God given potential.
As an Award Winning International Keynote Speaker, Clinton has been recognized by Arianna Huffington's Thrive Global as a "Top 12 Speaker to Inspire You". He has recently spoken to over 50,000 people across North America and Europe.
An experience of failure in 2008 shattered his confidence but awakened his soul. It set him on a spiritual path that led him to his purpose of "Re-Igniting the Human Spirit".
With a vision of causing a global tipping point in possibility consciousness by 2030, Clinton is on a mission to empower and equip an Army of 1,000 Purpose Driven Entrepreneurs to grow their Impact, Influence, and Income by becoming World Class Speakers!
See Clinton speak at www.ClintonYoung.com and join his Free Facebook Group at www.SpeakerPosse.com.
Registration info
IWOSC members – free
Non-members – $15
Reservations via this RSVP form are required for all attendees.
One attendee per form.
For non-members, payment button and instructions follows this submission. Payment is online by credit/debit card or PayPal balance. You'll be taken to PayPal.com, then returned to this site. (Because this is online, there is no pay-at-the-door option.)
RSVP for this panel
One person per submisson.
When you receive your attendee link SAVE THAT EMAIL or PUT THE LINK INTO YOUR CALENDAR. You need it to attend and we cannot promise that someone will be watching our email or phone the day of the event.
Remember, if you have a spam blocker such as Earthlink's, you must add info at iwosc.org to your OK list to see your confirmation.
If you have questions, please email our usual address — info at iwosc.org — or call us at 310-773-8075.