Event Description
---
IWOSC Annual Holiday Party
Wednesday, December 5, 2007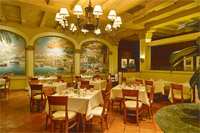 Jingle bells are ringing at the Biltmore. Follow the tradition of presidents, celebrities, dignitaries – and IWOSC writers – by kicking off the holiday season and celebrating history, architectural splendor, and creativity at the beautiful Biltmore Hotel!
Once again, we'll enjoy a lavish custom pasta bar, with chefs cooking up pasta dishes with all the trimmings. Dinner includes salad, dessert and beverages. No-host bar. After dinner, we'll toast this year's IWOSC dignitaries with special service awards. You can join the fun with raffles and door prizes.
Arrive at 5:45 p.m. before the party starts and join a docent-led tour of the Biltmore!
The behind-the-scenes tour includes the ballrooms, public areas, indoor pool, and the Presidential Suite! Space is limited so pleased reserve soon. You must have a party reservation to take the hotel tour.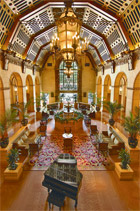 Come early for no-host cocktails if you're skipping the hotel tour.
Join your IWOSC friends in the Rendezvous Court (the "old lobby"), one of the most beautiful spaces in the city.
Early-arriving guests can visit other downtown sites: the Main Library's grounds, sculptural steps, and seven-story atrium. Pershing Square with its skating rink and life-size statue of Beethoven; the forecourt of the Oviatt Penthouse building with its Lalique elevator doors.
Hardier souls can walk to MOCA (Museum of Contemporary Art).
Holiday shoppers take note: MOCA and nearby Disney Hall have great gift shops!