Independent Writers of Southern California
IWOSC Welcomes you
If you're a writer in the greater Los Angeles area or Southern California, at any level of your writing career, writing for yourself, for magazines or ezines, working a screenplay or editing copy, or working on a book — writing in any genre, we welcome you.
IWOSC has been helping writers since 1982! We're one of LA's longest-running professional writers' organizations, providing writers of the greater LA or Southern California area with many opportunities: seminars, panels, brainstorming, discussions, parties, and more! Our About page has more about the educational and informational events we offer for writers…
Our upcoming events for writers
Online Panel


Ghostwriting and "Written With" Collaborations

Monday, June 28, 2021
6:00 – 8:00 p.m. Pacific
IWOSC members – free
Non-members – $15

IWOSC returns for June with an expert panel on one of its most popular, important, and potentially lucrative subjects: Ghostwriting — how to specifically train yourself for it, get assignments, and do the best possible job crafting and submitting the final product.

We will also explore the ins and outs of what it's like for both credited and uncredited authors to work with celebrities and political figures on their bios and memoirs, and on helping experts craft their diet/exercise tips, relationship/child-rearing advice, or buisiness strategies into books that are irresistible to readers, agents, and publishers alike.


~ ~ ~ ~ ~ ~
Some of Our Previous Events
Recordings are available for purchase.
• June 2021: Getting Ready to Publish Your Book
• March 2021: Writing Successfully For Children In Today's Complex Time
• February 2021: Write More
• January 2021: New Opportunities in Film & TV
---
Members-Only


Green Room – Online

Monday, June 14, 2021
7:00 p.m. Pacific Time
Free for IWOSC members


Once a month (typically the 2nd Monday) members may meet online to discuss issues that pertain to writing–perhaps your latest book, a question about your writing, a gesture toward collaboration with another writer or publisher, a great book that you are reading, another event that people might enjoy, or whatever. Members are invited via email.

NOTE: We'll pause this for July to hold our Members-only Brainstorming session instead.
Seminar – Online


Taking Great Photographs for Fun & Profit

Saturday, June 19, 2021 
1:00 – 3:00 p.m. Pacific Time
IWOSC members: $15
Non-members: $35
Register by noon the day before

Erika Fabian was as a field producer and photographer on major National Geographic assignments — and now she'll be teaching us. Do you wonder what fundamentals of photography she learned at National Geographic that are used the world over?

Could you take a contest-winning picture? Or illustrate an upcoming article with your shots?

Would you like to learn things like:
How to approach someone and take a "telling" people picture at home and around the world.
How to use all kinds of weather successfully for interesting shots
and much more?
---
LA Westside Satellite – Online


Write What You Don't Know — Yet

Saturday, June 26, 2021 
12:30 – 2:30 p.m. Pacific Time
Free for IWOSC members
Non-members: $10
Register by noon the day before.

How to prepare to write a book or article on a subject or location you're not familiar with.
Details and registration will be up approximately May 31.
Read more and register on this Satellite's page.

Our May meeting was Sci-fi author Carole Stivers, author of The Mother Code, on the art of writing science fiction. You can see it here.
Satellites— Informal sessions for writers
IWOSC's monthly drop-in satellite sessions are free and open to all writers — both members and non-members.
From Orange County to Pasadena to the San Fernando Valley, IWOSC has writers covered. Bring your writing, your ideas, problems, questions, and complaints. Receive support, laughs, juicy controversy, and plenty of networking. If there isn't a satellite in your area, we welcome having you create one.
Our local area satellite groups for writers are: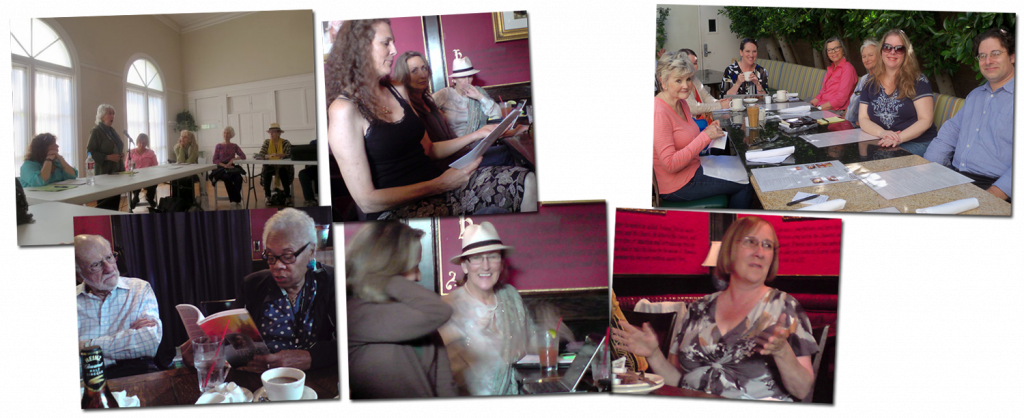 We had a Party! — online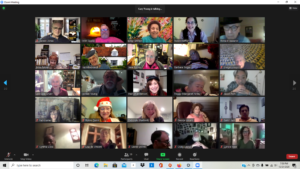 Ain't no virus stopped us from some holiday festivities with our fellow writers. We got together online, talked, shared some successes, and even enjoyed a magic performance by writer and professional magician David Groves.
Thankyou to Cheryl Crooks, one of our actual founding members, who was able to attend from across the country this year.
Monday, December 21, 2020
6:30 p.m.
Free – for all