Independent Writers of Southern California
IWOSC Welcomes you
If you're a writer in the Los Angeles area or Southern California, at any level of your writing career, writing for yourself, for magazines or ezines, working a screenplay or editing copy, or working on a book — writing in any genre, we welcome you.
IWOSC, for over 35 years — one of LA's longest-running professional writers' organizations, provides writers of the greater LA or Southern California area with many opportunities to get together: seminars, panel and more! Our About page has more about the educational and informational events we offer for writers…
Our Upcoming Writers' Events
April 2019 Panel…


Books to Film — for novelists, memoir and biography authors, and journalists

Monday, April 29, 2019
7:30 p.m. to 9:15 p.m.
(networking follows the program)

Free for IWOSC members
Non-members: $15 

Some of the topics we'll be exploring include:
How a writer can best position his or her work for a screen option and get it read by Hollywood gatekeepers and decision makers?
Do self-published and small press authors carry professional credibility —  and if not, how do they establish it?
Storytelling qualities to help make a novel, biography/memoir, or news article a must-see.
Adapting one's own work properly.
And more

 
---
Our previous Panel…
Solving the Mystery of Writing Good Mysteries
A recording is available for purchase.
April 2019 Seminar…


How to craft effective queries and proposals


with Michelle Zeitlin and Jane Cowen Hamilton of More Zap Literary

Wednesday, April 17, 2019
7:00 p.m. to 8:30 p.m.

IWOSC members: $15
Non-members: $35

Nearly all books are sold with a proposal that enlists the aid of a literary agent in convincing an acquisitions editor at a publishing entity to advance funds to a writer with an idea.

How to snag an agent with irresistible query letters and book proposals? Jane and Michelle will take you through the steps to a successful book proposal and query.

No matter where you are with your work-in-progress, authors and screenwriters will find this phone seminar invaluable because…
---
Our previous event…
Writing Memoirs that People WANT to Read!
Satellites— Informal sessions for writers
IWOSC's monthly drop-in satellite sessions are free and open to all writers — both members and non-members.
From Orange County to Pasadena to the San Fernando Valley, IWOSC has writers covered. Bring your writing, your ideas, problems, questions, and complaints. Receive support, laughs, juicy controversy, and plenty of networking. If there isn't a satellite in your area, we welcome having you create one.
Our local area satellite groups for writers are: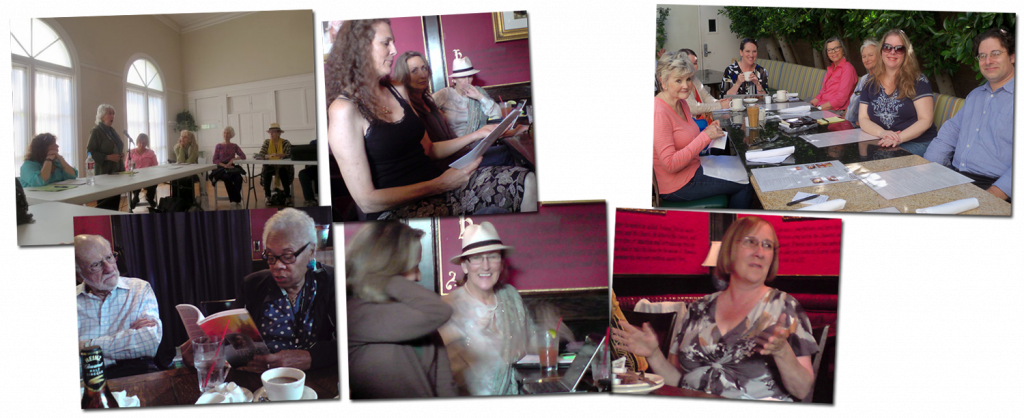 What happened in December…
Party — Our Annual Winter Party
Sunday afternoon, December 9, 2018
About 50 Southern California writers, writers and their friends got together for an afternoon of creative souls. Everyone enjoyed delicious French country cooking and sparkling conversation at TAIX, a great restaurant in the Echo Park area.