Independent Writers of Southern California
IWOSC Welcomes you
If you're a writer in the greater Los Angeles area or Southern California, at any level of your writing career, writing for yourself, for magazines or ezines, working a screenplay or editing copy, or working on a book — writing in any genre, we welcome you.
IWOSC, for over 36 years — one of LA's longest-running professional writers' organizations, provides writers of the greater LA or Southern California area with many opportunities to get together: seminars, panel and more! Our About page has more about the educational and informational events we offer for writers…
Our upcoming events for writers
Our Westside Satellite – Online!


Your Crucial 1st 10 Pages

Saturday, June 6, 2020
12:30 to 2:30 p.m.
(this Satellite's  regular time)
FREE for everyone
Open to everyone

This month our Los Angeles Westside Satellite meeting comes to you at home via Zoom so anyone from anywhere may attend. We encourage you to get the Zoom v5 update asap.

Present by Serita Stevens

Once upon a time, authors such as Dickens meandered us into stories. Today we want to be swept into the character's life as quickly as possible.

We'll discuss how to draw your reader into your character's emotional journey and problems, bringing your main character alive, giving a sense of setting, and more.
Our Upcoming June Online Panel
We're working on our June Online Panel and will have info for you here as soon as it's set.

~ ~ ~ ~ ~ ~
Our Previous Panels
Our May Online Panel was Research Techniques For Writers.
Our April Online Panel was A Conversation with Best-selling Author Lisa See. You may purchase a recording if you'd like.
In the Works – Save the Date
Here's what we're working on for our writing community. It's all subject to change for the obvious reason, but this will help you plan.
IWOSC/PALA Satellite meetings — Dates TBA
We'll be holding our Satellites online, enabling writers from all over to attend.
Zoom tutorial — How to participate in a Zoom meeting —  Date TBA
Zoom tutorial — For people who want to create their own Zoom meeting on their own account — Date TBA
West Coast Writers Conference in August
Small Publishers, Artists & Writers Network & 805 Writers conference. We are co-sponsoring this conference.
Members-only Brainstorming meeting — TBA
FREE for IWOSC/PALA members (Open to members only)
Satellites— Informal sessions for writers
IWOSC's monthly drop-in satellite sessions are free and open to all writers — both members and non-members.
From Orange County to Pasadena to the San Fernando Valley, IWOSC has writers covered. Bring your writing, your ideas, problems, questions, and complaints. Receive support, laughs, juicy controversy, and plenty of networking. If there isn't a satellite in your area, we welcome having you create one.
Our local area satellite groups for writers are: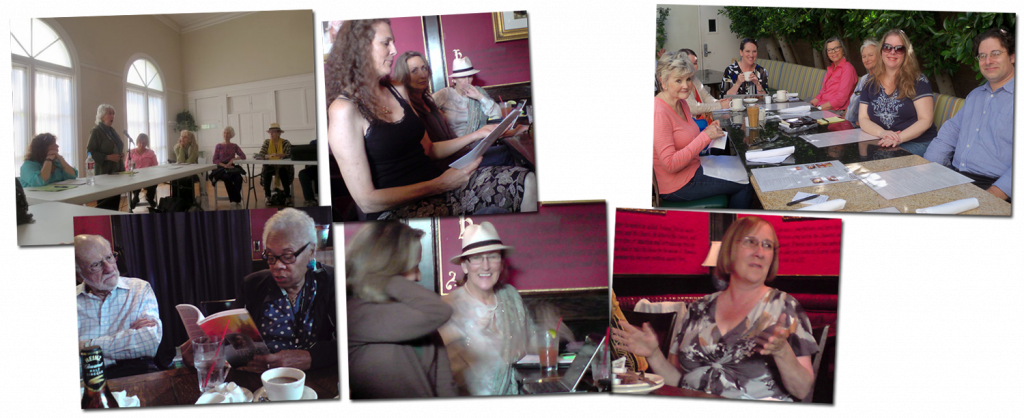 Just happened… our winter party


Winter Party at Taix French Restaurant
Wednesday, December 11
6:00 p.m. – 9:00 p.m. (or later if you'd like)
Our attending members and guests enjoyed getting together in our private room at Taix in Echo Park. Old World charm of this 90-year-old in a family-owned restaurant. Meeting fellow writers and talking about whatever interested them and their fellow scribes.
Beef Bourguignon, Fresh Boneless Trout Almondine, or Vegetarian: Pasta Monegasque…
For pricing and more info, please use the link immediately below.