Independent Writers of Southern California
IWOSC Welcomes you
If you're a writer in the greater Los Angeles area or Southern California, at any level of your writing career, writing for yourself, for magazines or ezines, working a screenplay or editing copy, or working on a book — writing in any genre, we welcome you.
IWOSC, for over 36 years — one of LA's longest-running professional writers' organizations, provides writers of the greater LA or Southern California area with many opportunities to get together: seminars, panel and more! Our About page has more about the educational and informational events we offer for writers…
Our upcoming events for writers
Panel


The Business (and Taxes) of Writing

Monday, January 27, 2020
7:30 p.m. to 9:15 p.m.
(networking follows the program)
Free for IWOSC members
Non-members: $15 

To kick off the new year of 2020, IWOSC/PALA is presenting a program to deal with taxes to give advice on conducting our business as writers and publishers.

This year, California writers have a lot more on their plates than merely planning for their annual appointment with the IRS.

In addition to all the usual issues of being a writer or freelance writer,  in California we're dealing with the introduction of the controversial "individual mandate" for health insurance for our state and the new Assembly Bill 5 (AB 5) which has the potential to severely curtail and affect freelance writing assignments for California writers.



Special event for members


Brainstorming: Answers to Your Puzzling Publishing Questions

Thursday, January 23, 2020
7:00 p.m.
Members-only; Free, attendance is limited


Rather than our typical Seminar, this special member event.

Want feedback on titles for your next book or opinions about a potential cover design? Need help with finding a distributor? Not sure if you should spend money on a trade show?

YOUR questions can be answered.
Bring your books, cover design drafts, marketing ideas, requests for referrals, and anything else related to publishing. Take advantage of the collective wisdom of your fellow attending members. Held at a private home near West Los Angeles.

Read more and learn how to register…

February Workshop


Set Yourself Up for Writing Success: Goal-Setting Using The D*E*B METHOD®

Saturday, February 1, 2020 
11:00 a.m. – 1:00 p.m.

Is 2020 the year you are going to finish your novel or screenplay, get an agent, or step up your marketing? Join goal coach and project catalyst Debra Eckerling, author of Your Goal Guide, for our first IWOSC Writers Workshop of 2020.
Satellites— Informal sessions for writers
IWOSC's monthly drop-in satellite sessions are free and open to all writers — both members and non-members.
From Orange County to Pasadena to the San Fernando Valley, IWOSC has writers covered. Bring your writing, your ideas, problems, questions, and complaints. Receive support, laughs, juicy controversy, and plenty of networking. If there isn't a satellite in your area, we welcome having you create one.
Our local area satellite groups for writers are: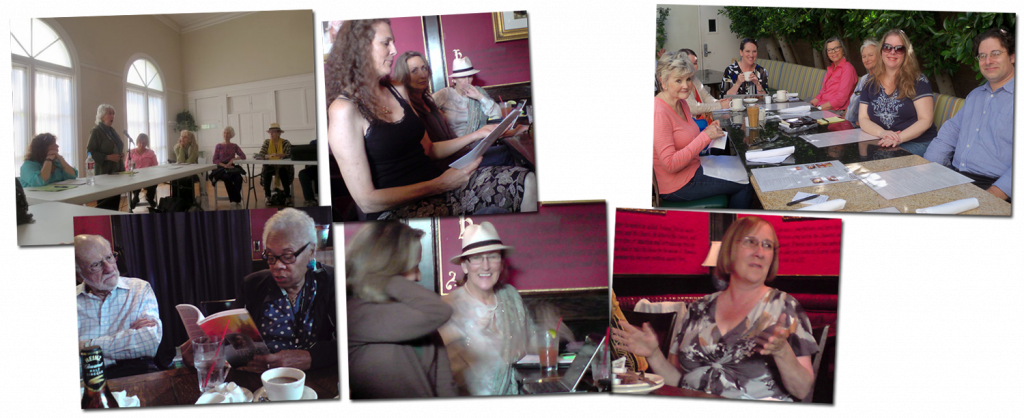 Just happened… our winter party


Winter Party at Taix French Restaurant
Wednesday, December 11
6:00 p.m. – 9:00 p.m. (or later if you'd like)
Our attending members and guests enjoyed getting together in our private room at Taix in Echo Park. Old World charm of this 90-year-old in a family-owned restaurant. Meeting fellow writers and talking about whatever interested them and their fellow scribes.
Beef Bourguignon, Fresh Boneless Trout Almondine, or Vegetarian: Pasta Monegasque…
For pricing and more info, please use the link immediately below.