Independent Writers of Southern California
IWOSC Welcomes you
If you're a writer in the Los Angeles area or Southern California, at any level of your writing career, writing for yourself, for magazines or ezines, working a screenplay or editing copy, or working on a book — writing in any genre, we welcome you.
IWOSC, for over 35 years — one of LA's longest-running professional writers' organizations, provides writers of the greater LA or Southern California area with many opportunities to get together: seminars, panel and more! Our About page has more about the educational and informational events we offer for writers…
Our Upcoming Writers' Events
March 2019 Panel…


Solving the Mystery of Writing Good Mysteries

Monday, March 25, 2019
7:30 p.m. to 9:15 p.m.
(networking follows the program)

Free for IWOSC members
Non-members: $15 

Everybody loves a mystery — but not everybody knows how to write one.

From plot pacing to story structure to the eternal choice between plot-driven and character-driven fiction,  our next panel for writers will address mystery novels. 

Looking for clues on how to get started writing mysteries? Have a who-done-it in the trunk eager to escape?

Some of the topics our psychological autopsy will be focusing on…
---
Our previous Panel…
Writing Health & Wellness
A recording is available for purchase.
March 2019 Seminar…


Writing Memoirs that People WANT to Read!

Saturday, March 16, 2019
10:30 am – 1:00 p.m.

IWOSC members: $15
Non-members: $35

Writing Tips and Techniques to Bring Your Story to Life
Ina Hillebrandt will lead you through her special provocative techniques in this hands-on writing seminar as you write a short tale to immediately get the hang of this new style!

You'll experience for yourself how fun and cathartic it can be to write stories from your own life.

You'll get creative practical feedback and writing tips to write memoirs that people will want to read — even those who are not your mother or child.
---
Our previous event…
Webinar: Help a Reporter Out (HARO) — Indispensable Resource for Writers
Satellites— Informal sessions for writers
IWOSC's monthly drop-in satellite sessions are free and open to all writers — both members and non-members.
From Orange County to Pasadena to the San Fernando Valley, IWOSC has writers covered. Bring your writing, your ideas, problems, questions, and complaints. Receive support, laughs, juicy controversy, and plenty of networking. If there isn't a satellite in your area, we welcome having you create one.
Our local area satellite groups for writers are: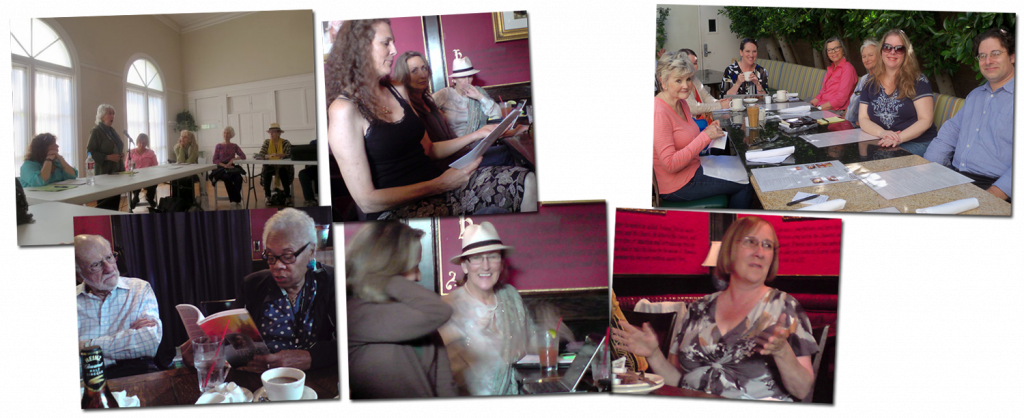 What happened in December…
Party — Our Annual Winter Party
Sunday afternoon, December 9, 2018
About 50 Southern California writers, writers and their friends got together for an afternoon of creative souls. Everyone enjoyed delicious French country cooking and sparkling conversation at TAIX, a great restaurant in the Echo Park area.