Independent Writers of Southern California
IWOSC Welcomes you
If you're a writer in the Los Angeles area or Southern California, at any level of your writing career, writing for yourself, for magazines or ezines, working a screenplay or editing copy, or working on a book — writing in any genre, we welcome you.
IWOSC, for over 35 years — one of LA's longest-running professional writers' organizations, provides writers of the greater LA or Southern California area with many opportunities to get together: seminars, panel and more! Our About page has more about the educational and informational events we offer for writers…
Our Upcoming Writers' Events
February 2019 Panel…


Writing Health & Wellness

Monday, February 25, 2019
7:30 p.m. to 9:15 p.m.
(networking follows the program)

Free for IWOSC members
Non-members: $15 

Health & Wellness titles, like Come as You Are, Chris Beat Cancer and The Fast Metabolism Diet, continue to be among the top sellers in books on and off line.

Our panel of experts will share their hard-earned insights and tips for success in health and wellness including discussing:
Do you have to be a health expert to publish in this arena
How can you get your book done?
How do you find gigs to write books for the experts in this field?
and more, of course.
---
Our previous Panel…
What Kind of Publishing is Right for Me?
A recording is available for purchase.
February 2019 Webinar…


Help a Reporter Out (HARO) — Indispensable Resource for Writers

Tuesday, February 12, 2019
6:00 p.m. (Please note time and date.)

IWOSC members: $15
Non-members: $35

Learn all about HARO, directly from headquarters.

HARO is a service in which reporters, bloggers, and authors submit queries seeking experts who can lend credibility and breadth to their stories. Experts respond in hopes of gaining some publicity for themselves, their brand or their client. It's that simple!

What we'll go over…
---
Our previous Seminar…
From Writing Chaos to Clarity: Goal Setting Using the D*E*B Method
Satellites— Informal sessions for writers
IWOSC's monthly drop-in satellite sessions are free and open to all writers — both members and non-members.
From Orange County to Pasadena to the San Fernando Valley, IWOSC has writers covered. Bring your writing, your ideas, problems, questions, and complaints. Receive support, laughs, juicy controversy, and plenty of networking. If there isn't a satellite in your area, we welcome having you create one.
Our local area satellite groups for writers are: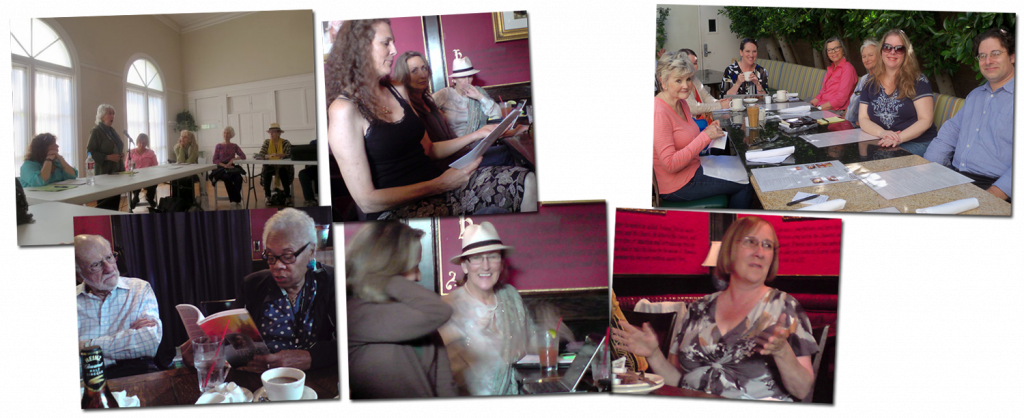 What happened in December…
Party — Our Annual Winter Party
Sunday afternoon, December 9, 2018
About 50 Southern California writers, writers and their friends got together for an afternoon of creative souls. Everyone enjoyed delicious French country cooking and sparkling conversation at TAIX, a great restaurant in the Echo Park area.