Independent Writers of Southern California
IWOSC Welcomes you
If you're a writer in the greater Los Angeles area or Southern California, at any level of your writing career, writing for yourself, for magazines or ezines, working a screenplay or editing copy, or working on a book — writing in any genre, we welcome you.
IWOSC, for over 36 years — one of LA's longest-running professional writers' organizations, provides writers of the greater LA or Southern California area with many opportunities to get together: seminars, panel and more! Our About page has more about the educational and informational events we offer for writers…
Our upcoming events for writers
Online Panel


How to Write Funny 2020

Tuesday, October 27, 2020 
7:00 – 8:30 p.m. Pacific Time
Free for IWOSC members
Non-members: $15 

"Dying is easy; comedy is difficult," especially these days.

But we persist because we can. From the farces of Feydeau, Baudelaire, and Wilde, on to George Carlin, Lenny Bruce, Larry Gelbart, Terry Southern, Paddy Chayefsky, and Norman Lear, right on through to Dave Chappelle, Mindy Kaling, and Stephen Colbert today, blistering social satire and, yes, even a few organic laughs are necessary for our sanity.

We'll discuss…

Read more…

~ ~ ~ ~ ~ ~
Some of Our Previous Events
September: Annual Agents Panel.
June: How to Write Query Letters & Proposals: The 7 Steps to a Successful Book Proposal.
May: Research Techniques For Writers.
These recordings are available for purchase.
LA Westside Satellite Online


Essential Elements in Writing Mystery Novels

Do you love getting caught up in a good mystery? For our November event, our satellite host Robin Quinn will interview veteran author Marv Wolf, the writer of two mystery series, Rabbi Ben (final installment, Bride of Finkelstein, just became available) and the new Chelmen and Spaulding CID (Book One, M-9, released August 2019).

They'll explore:
Why you should consider the mystery genre
Where to get ideas
…
Satellites— Informal sessions for writers
IWOSC's monthly drop-in satellite sessions are free and open to all writers — both members and non-members.
From Orange County to Pasadena to the San Fernando Valley, IWOSC has writers covered. Bring your writing, your ideas, problems, questions, and complaints. Receive support, laughs, juicy controversy, and plenty of networking. If there isn't a satellite in your area, we welcome having you create one.
Our local area satellite groups for writers are: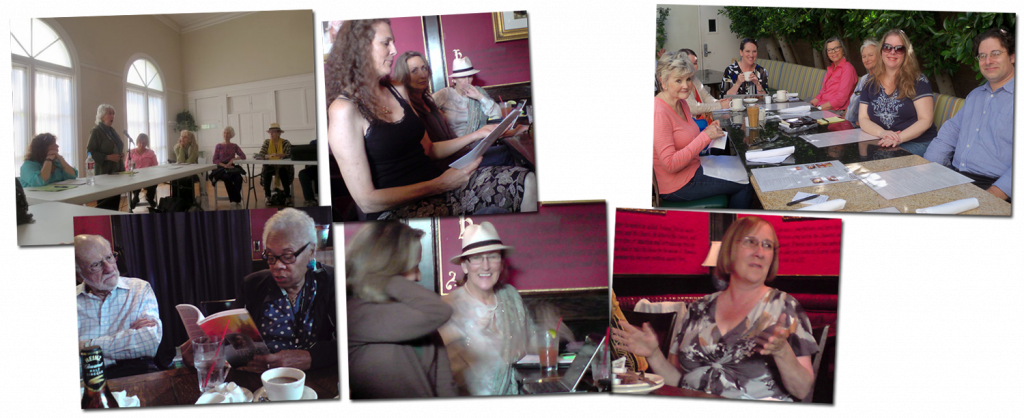 Our winter 2019 party


Winter Party at Taix French Restaurant
Wednesday, December 11
6:00 p.m. – 9:00 p.m. (and later)
Our attending members and guests enjoyed getting together in our private room at Taix in Echo Park. Old World charm of this 90-year-old in a family-owned restaurant. Meeting fellow writers and talking about whatever interested them and their fellow scribes. Beef Bourguignon, Fresh Boneless Trout Almondine, or Vegetarian: Pasta Monegasque…