Independent Writers of Southern California
IWOSC Welcomes you
If you're a writer in the Los Angeles area or Southern California, at any level of your writing career, writing for yourself, for magazines or ezines, working a screenplay or editing copy, or working on a book — writing in any genre, we welcome you.
IWOSC, for over 35 years — one of LA's longest-running professional writers' organizations, provides writers of the greater LA or Southern California area with many opportunities to get together: seminars, panel and more! Our About page has more about the educational and informational events we offer for writers…
Our Upcoming Writers' Events
June 2019 Panel…


What Writers & Publishers Should Know About Audiobooks

Monday, June 24, 2019
7:30 p.m. to 9:15 p.m.
(networking follows the program)

Free for IWOSC members
Non-members: $15 

Have you wondered about the viability or value of creating an audio version of your book? Does your book lend itself to an audio version? Could it?

Whether you've already written and published your book or are still writing it, whether your words are fiction or nonfiction, the insights from our panel of professional voice actors can be of great benefit as you contemplate the possibility of turning it into an audio book.

Come hear our panel, composed entirely of professional and experienced voice actors and producers.
---
Our previous Panel…
Annual Agents Panel for writers – 2019
This Panel has passed but you can purchase a recording of it if you'd like.
---
Upcoming Panel dates
Next up… tentative so you can plan:
Monday night July 29: Children's Literature
Next Seminar, our July 10 Webinar


Screenwriting & TV Writing with Pilar Alessandra: 90-minute Q&A

Wednesday, July 10, 2019
7:00 p.m. to 8:30 p.m.


IWOSC members: $15
Non-members: $35

Are you a screenwriter or thinking about writing a movie or TV script?

Our popular seminar leader, Pilar Alessandra, author of "The Coffee Break Screenwriter," answers your questions about the craft.

Her tips and techniques are well known for getting writers On the Page, and helping them finish their scripts fast!

Anything goes in this 90-minute video-conference Q&A. So, bring your questions about brainstorming, outlining, character work, dialogue and page-writing.

Can't make it to the live session? It will be recorded and sent to IWOSC members.
---
Our previous Seminar…
How to craft effective queries and proposals
with Michelle Zeitlin and Jane Cowen Hamilton of More Zap Literary
Satellites— Informal sessions for writers
IWOSC's monthly drop-in satellite sessions are free and open to all writers — both members and non-members.
From Orange County to Pasadena to the San Fernando Valley, IWOSC has writers covered. Bring your writing, your ideas, problems, questions, and complaints. Receive support, laughs, juicy controversy, and plenty of networking. If there isn't a satellite in your area, we welcome having you create one.
Our local area satellite groups for writers are: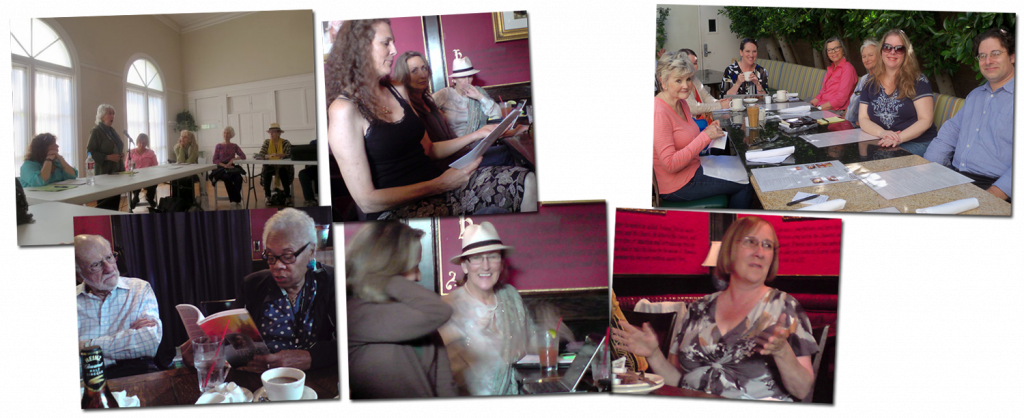 A recent-ish past event…
Our Annual Winter Party
Sunday afternoon, December 9, 2018
About 50 Southern California writers, writers and their friends got together for an afternoon of creative souls. Everyone enjoyed delicious French country cooking and sparkling conversation at TAIX, a great restaurant in the Echo Park area.