Independent Writers of Southern California
IWOSC Welcomes you
If you're a writer in the greater Los Angeles area or Southern California, at any level of your writing career, writing for yourself, for magazines or ezines, working a screenplay or editing copy, or working on a book — writing in any genre, we welcome you.
IWOSC, for over 36 years — one of LA's longest-running professional writers' organizations, provides writers of the greater LA or Southern California area with many opportunities to get together: seminars, panel and more! Our About page has more about the educational and informational events we offer for writers…
Our upcoming events for writers
Onlnie Webinar
How to Monetize Your Message – 5 Steps to Book-Selling Success
Monday, August 24, 2020
7:00 p.m
IWOSC members: FREE
Non-members: FREE 
This event will take place over Zoom.
Reality TV stars and authors, Rocky & Cheryl Detwiler are professional coaches who teach authors how to land paid speaking engagements, create workshops, and sell their books in bulk. They've appeared on A&E, ABC, ESPN, FOX, and NBC.
In their PowerPoint you will learn…
---
In the Works
Beside our regular events here's what we're working on:
Tutorial — How to participate in a Zoom meeting
Tutorial — Create you own Zoom meeting
Small Publishers, Artists & Writers Network & 805 Writers conference. We are co-sponsoring this conference.
Members-only Brainstorming meetings — FREE members-only events. Invitations are sent to all members.
Satellites— Informal sessions for writers
IWOSC's monthly drop-in satellite sessions are free and open to all writers — both members and non-members.
From Orange County to Pasadena to the San Fernando Valley, IWOSC has writers covered. Bring your writing, your ideas, problems, questions, and complaints. Receive support, laughs, juicy controversy, and plenty of networking. If there isn't a satellite in your area, we welcome having you create one.
Our local area satellite groups for writers are: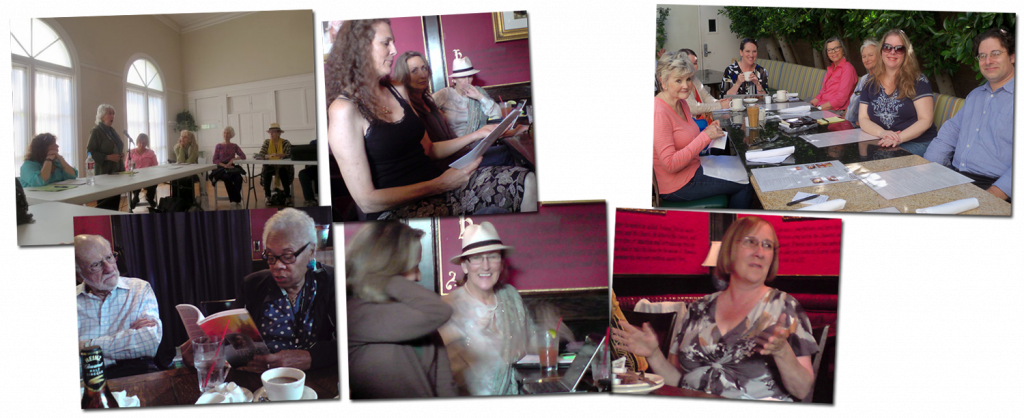 Just happened… our winter party


Winter Party at Taix French Restaurant
Wednesday, December 11
6:00 p.m. – 9:00 p.m. (or later if you'd like)
Our attending members and guests enjoyed getting together in our private room at Taix in Echo Park. Old World charm of this 90-year-old in a family-owned restaurant. Meeting fellow writers and talking about whatever interested them and their fellow scribes.
Beef Bourguignon, Fresh Boneless Trout Almondine, or Vegetarian: Pasta Monegasque…
For pricing and more info, please use the link immediately below.