Event Description
---
Celebrating 35 years of our writer's group with this year's holiday party at the Biltmore
We will put our writing aside as scribes and guests socialize downtown at the Millennium Biltmore Hotel! 
Frescos, murals, embroidered tapestries, carved marble fountains and columns, lead crystal chandeliers, cast bronze stairwells and doorways — and history. The Biltmore, designated as a California historic-cultural landmark in 1969, is centrally located in downtown Los Angeles across the street from Pershing Square and is all this and more.
You'll get to meet our Board of Directors, network, schmooze, have a lavish dinner, win prizes, and more.
Date and Time
Wednesday, December 6, 2017
6:00 Mingling and no-host cocktails in the Rendezvous Court
6:15 sharp Optional Hotel Tour, ends at 7:15 for dinner
When you receive your confirmation email you'll be asked whether you plan to take the tour.
7:30 Dinner in Smeraldi's Restaurant
Location
Millennium Biltmore Hotel
506 South Grand Avenue
Downtown Los Angeles, CA 90071
Main number: 213-624-1011
The Rendezvous Court, where we get together before dinner, was originally the hotel's lobby. Its decor includes a Moorish Revival styled plaster ceiling painted with 24 Carat Gold accents, two original imported Italian chandeliers from 1923, and a grand Spanish Baroque Revival bronze doorway with an astrological clock.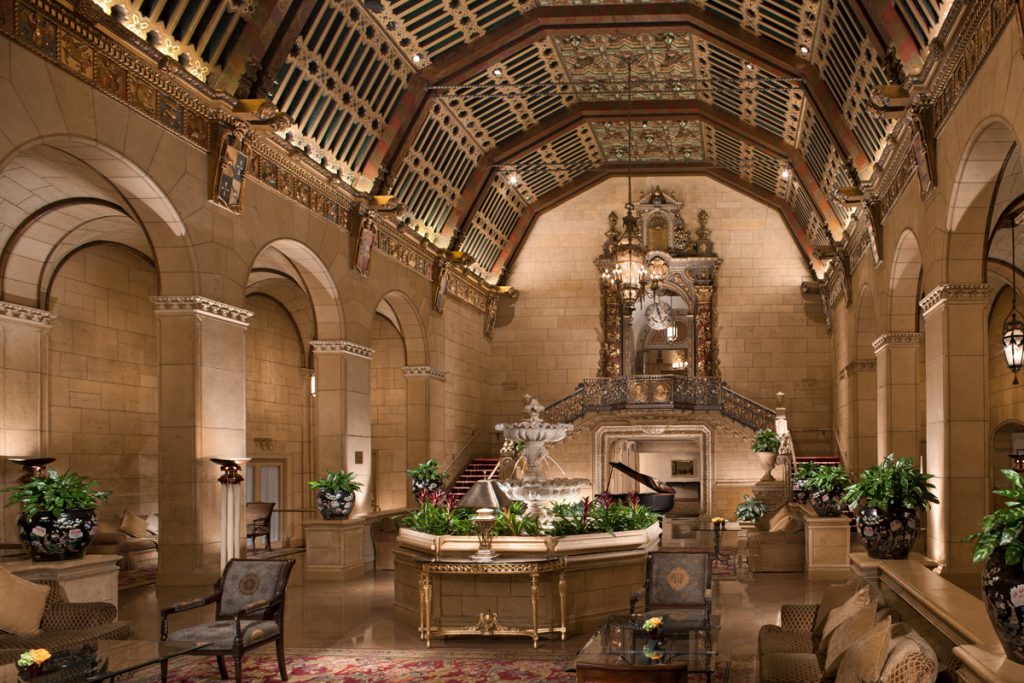 Smeraldi's is named for Giovanni Smeraldi, the famed Italian artist who, in 1922, with assistance from his team, hand painted the fresco mural ceilings of the main Galleria and the Crystal Ballroom. His murals also grace the Vatican and the White House.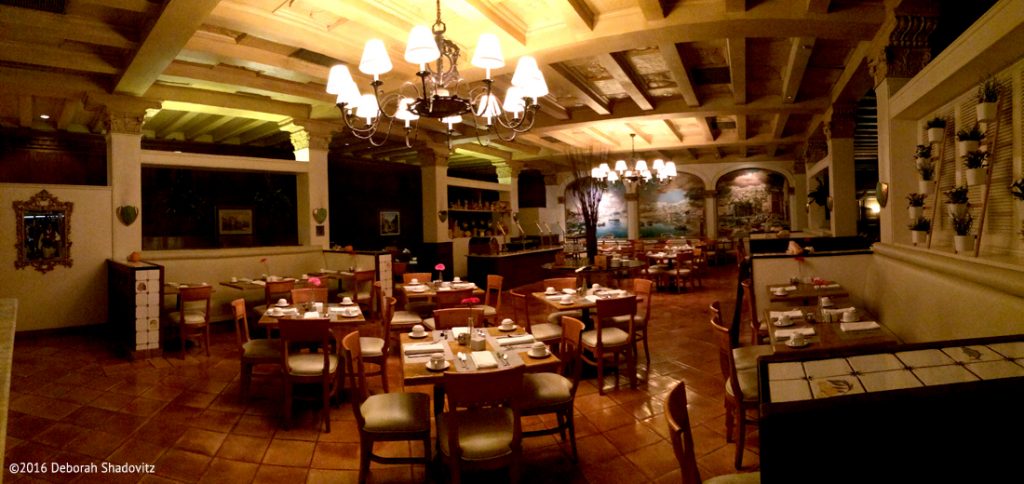 The Meal
We will be enjoying a lavish buffet that includes three salads and two pasta dishes (one vegetarian), as well as meat and side dishes and a dessert buffet.
Parking & Transport
Car parking:
Hotel Valet, enter on Grand, just south of 5th. (Grand is one-way running southbound.)
$8 for up to 4 hours (with our restaurant validation). The fee is $4.75 for every 15 minutes past that 4 hour period, maximum $45.
Credit cards accepted.
The Biltmore does not have self-parking
Pershing Square garage across from the hotel under Pershing Square. Enter on Olive immediately after you pass 6th Street. You can also enter on 5th or 6th. After you park, you come upstairs onto Olive, cross the street, and enter directly into the Rendezvous Court. This is actually closer than entering from the valet parking.
$7 flat rate entering after 5:00 pm
Credit cards accepted, fully automated, 24-hour security.
Other nearby private lots and garages.
By train:
The Red Line and Purple Line stop at Pershing Square station. Exit/Entrance at corner of 5th and Hill.
The Expo Line from Santa Monica and the Blue Line from Long Beach end at the 7th Street/Metro Center where you can transfer for free and travel one more stop to Pershing Square or enjoy a .3 or .4 mile walk.
The Gold Line from the San Gabriel Valley comes into Union Station where you may transfer for free to the Red Line and Purple Line stop at Pershing Square.
Transfers between trains and even between buses and trains are free when you use a TAP card which stores the time of your first entry, enabling you up to 2 hours to complete your 1-way journey. However, this does not work when you pay a bus fare with cash or a token. Read TAP FAQ here.
By bus:
Buses that stop on Olive across from the Rendezvous Court entrance:
4, 70, 71, 76, 78/79/378, 770, Silver Streak
Buses that stop on 5th across from the Valet entrance:
37, 60, 70, 71, 76, 78, 79, 96, 378, 442, 460, 487, 760, 770
Carpool:
If you'd like to carpool consider posting on our Yahoo discussion group or on our Facebook page.
This photo slideshow will show some of the parking options.
Did you know…
The Los Angeles Biltmore hotel, as it was originally known when it opened with 1500 rooms in 1923, was the largest hotel west of Chicago. As rooms have become larger, it now has 683 hotel rooms.
The Biltmore has hosted Presidents, celebrities, dignitaries, and more:
Eight Academy Awards ceremonies (1931, 1935–39, and 1941-42).
WWII military on R&R.
The 1960 Democratic National Convention, which selected JFK.
JFK held his acceptance speech there.
JFK and his VP, Lyndon B. Johnson, had campaign headquarters there.
The Academy of Motion Picture Arts and Sciences was founded in the Biltmore's Crystal Ballroom, May 1927.
In 1964 the Beatles stayed in the Presidential Suite during their first U.S. tour. They had to use the heliport on the roof to escape the mob of their fans.
You can learn more at:
While You're Downtown
If you'd like to take in downtown before the party there is plenty to see and do. Nearby you will find:
Visit the Caravan Book Store in the Pacmutual building. It has character, collectibles, and class. You might find a great holiday gift for someone you love, or for yourself.
Pershing Square's real winter-only outdoor skating rink
MOCA (Museum of Contemporary Art) (.3 miles)
Disney Hall (.7 miles)
Grand Central Market (1/2 mile walk)
Angels Flight (it's running again!)
The Last Bookstore, a uniquely decorated bookstore with great book prices (.3 miles down 5th)