Event Description
---
Sunday, February 21, 2021 — The first of two RIO this month.
Free to all — You don't have to be a member to attend
For the second time,  IWOSC's biannual Reads Its Own program was online via Zoom. Because we aren't bound to to physical limitations of geography while online,  we had so many readers that we're decided to do this twice this month!
IWOSC members come from all sorts of backgrounds. Ask a member what he or she is working on writing and you are bound to be surprised by some of their answers. You never know what will spring from their minds given all of their backgrounds, interests, and selected genres.
Many folks joined us for the 21st as some of our talented members immersed them in their world of words for 7 minutes each. Emotions stirred as our readers to practiced reading their words — an enjoyable and rewarding way to spend the afternoon.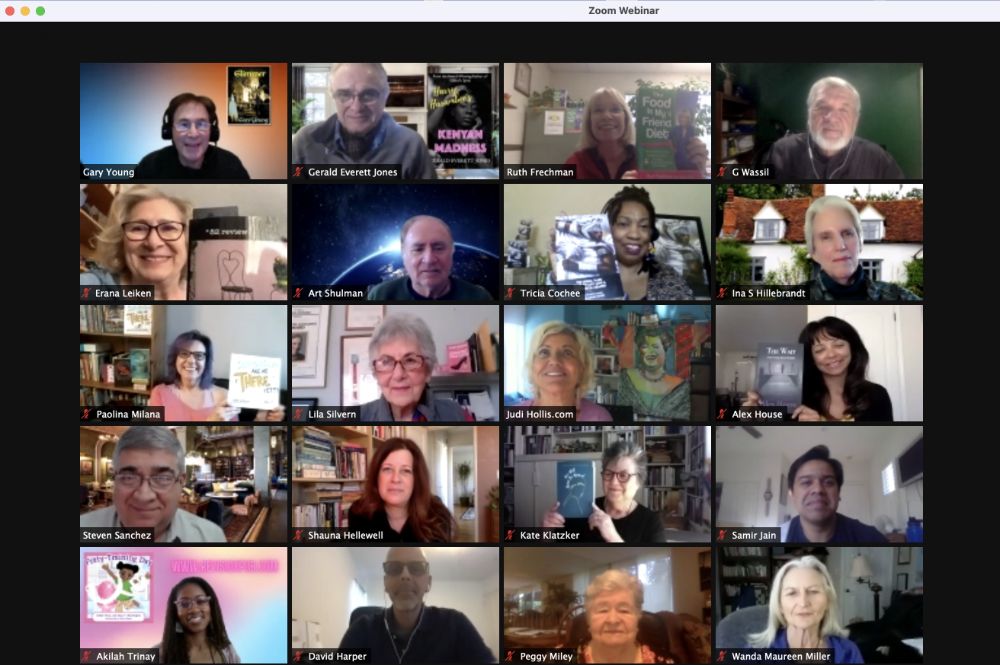 Readers February 21
Gary Young
Gary Young's plays have been produced at the Kennedy Center, Lincoln Center, the White House, the Smithsonian, and venues throughout the U.S. and Europe. His play Interruptions premiered at the Kennedy Center with a West Coast run at the Stella Adler Theatre in Hollywood. He co- coordinated the National Very Special Arts Festival at the Kennedy Center. Gary and Kathy Young co-authored Loss and Found: Surviving the Loss of a Young Partner. Gary has been IWOSC president since 2016.
Akilah Trinay
Akilah Trinay, Oakland native, is the proud mother of 2-year-old Ziana Washington. She was inspired to write a children's book after exploring the joys and challenges of single motherhood. Akilah is the author of the fictional urban suspense novel Beyond the Hurt. She is founder of Revision Publishing LLC. Akilah Trinay resides in the Bay Area with her daughter and supportive family.
Gerald Everett Jones
Gerald Everett Jones received six book awards in 2020, including the top two New York City Big Book Awards in Mystery for the first two novels in his Evan Wycliff series. Based on his recent experiences in East Africa, the work in progress he reads today is his eleventh novel. He is the host of the GetPublished! Radio show and has been a member of IWOSC since 1985.
Catherine Klatzker
Catherine Klatzker quarantines in a family bubble that includes children and grandchildren. Her writing appears in mental health anthologies as well as a range of other publications. You Will Never Be Normal is the memoir of her dissociative identity disorder (DID) and PTSD, a personal story of a mental illness that is seldom, if ever, talked about in conversations about overcoming stigma in mental health. It is forthcoming on May 4, 2021 from Stillhouse Press.
Erana Leiken
Erana Leiken's career spans marketing, consulting, blogging, and teaching writing, marketing, and humanities as adjunct faculty for UOP, UCLA Extension, UVA and GWU. Selected Top Faculty for UOP. Other experience: Web travel writer, NBC reporter, magazine editor, published in The Washington Post, Arizona Republic, ASBA, the Journal Star, BlogHer.com, The Daily Breeze, Womenfor1, *Star82 Review nominated for Best of the Net Anthology, and most recently Tiny Seed Literary Journal.
Samir Jain
Samir Jain is a first-generation Asian-American writing a coming-of-age memoir that creates a connection with immigrant families, and how their children balanced themselves in a culturally diverse background.
Tricia Cochée
Tricia Cochée – Poet, writer, massage therapist and health educator, Ms. Cochée will read from her debut poetry/prose memoir, The Orisha Talks: Tales of Lust, Love and Herstorical Memory, published by World Stage Press. Co-founder of SWAAM (Spoken Word, Art and Music) poetry lounge, her writing has been featured in many venues and publications including: Beyond Baroque; City of Los Angeles African American Heritage Month Calendar; Who's Who In Black Los Angeles; and Voices from Leimert Park Redux.
Shauna Hellewell
Shauna Hellewell was born and raised in Salt Lake City and lived to tell the tale. She's been a Mormon, a New Yorker, a bartender, a singer in a cover band, a yoga teacher, a Hollywood film executive, and is currently completing her first semi-autobiographical novel. She's also a Tin House Writer's Conference alum and published in Yogi Times and Mr. Beller's Neighborhood. She lives with her husband in Santa Monica.
Peggy Miley
Peggy Miley is an actress (most recently Stranger Things Season 3, Curb Your Enthusiasm, Suburbicon) and a less experienced writer: her one- woman show, Irish Bread and Tea (performed in New York and LA), and a few unproduced short films and one feature film waiting for Meryl Streep and Tovah Feldshuh to star in. Today's reading will reflect her background: lifetime Irish Catholic Democrat New Yorker living in exile in LA.
David Harper
David Harper is best known as the guy who wrote those movies you never saw and those books you didn't read. But you may have read some of his shorter works in publications like Altered Reality Magazine, Potato Soup Journal, and The Haven. He has written and produced award-winning theatre on both coasts, as well as award-winning films and web series. He is an avid sailor who prefers chart, compass, and sextant over GPS.
Lila Lee Silvern
Lila Lee Silvern enjoyed a long and successful career teaching and writing lessons for immigrant students. When she retired, she created a surprising new image of herself writing a memoir about senior romance, Confessions of a Geriatric Prom Queen. She is about to publish a collection of teacher stories, Chalkboard Confidential.
Alex House
Alex House writes stories that explore the sensitivity of misery and unhappiness in the context of disproportionate reactions to harsh life events. Alex has a foreign law degree from the Dominican Republic, took law courses at the University of Bologna, Italy and has a Master's Degree in Criminal Justice from Chapman University, as well as a Certificate in Fiction Writing from UCLA. The Wait and Other Short Stories was published in October 2020.
Wassil
Wassil has co-written a number of screenplays, several of which were optioned but none produced. He is the creator/writer of the YA Graphic Novel Chrysalides, Volume 1 of the Oh, Hell series, winner of the 2014 Geekie Award for Best Comic and the 2017 Independent Publisher Book Awards, IPPY Gold Medal for Best Graphic Novel. This is his first novel.
Ina Hillebrandt
Ina Hillebrandt – After pivoting from Fortune 500 consultant to writer, editor, memoir/fiction coach, Ina wrote her first book, Amazon best seller Pawprints, sparking a literacy/kindness to animals program begun at the Jane Goodall Institute. How To Write Your Memoirs followed. IRWIN Award Winner You Are Who You Eat lives in OSU's Cartoon Library & Museum, and the UK's and USA's finest bathrooms. She's now escaping COVID nerves by patting her cat while writing MiceCapades, editing/coaching.
Paolina Milana
Paolina Milana – Committed: A Memoir of Madness in The Family is Paolina's sequel to The S Word (2015), which received the National Indie Excellence Award. In 2020, she published a Dr. Seuss-y inspirational book for adults, Seriously! Are We There Yet?! and a Christmas novel, Miracle on Mall Drive. As a writing coach, Paolina helps others write their stories, and in her empowerment coaching, helps others reimagine their lives, write next chapters, and become heroes of their own journeys.