Event Description
---
IWOSC Summer Party!
Saturday, August 25, 2007
Don't miss the annual IWOSC Summer Party!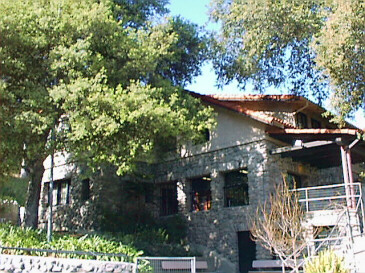 It's your opportunity to rub elbows with some of Southern California's most interesting writers, while you enjoy a light repast and quenching drinks in a unique historic setting.
This year's party is being held at the landmark stone residence of John Steven McGroarty, a playwright, Los Angeles Times columnist, author, historian, elected Congressman, and Poet Laureate of the State of California from 1933 until his death in 1944.
Nestled in the Verdugo foothills of the San Gabriel Mountains in Tujunga, this impressive stone structure was built in 1923 and is also known as "Rancho Chupa Rosa." Like many nearby homes constructed in the period, much of the property was constructed with rocks found in the soil or from the nearby Tujunga Wash. The home features a large veranda with a spectacular view of surrounding oaks, the sprawling city below, and the majestic San Gabriel Mountains to the north.
Today, the McGroarty Residence is filled with antiques, McGroarty's personal library, and mementos of California's colorful history. It is a Los Angeles Historic-Cultural Monument, and has been a community arts center since 1974. It is currently operated by a volunteer Board of Directors, the Friends of McGroarty Arts Center (F.O.M.A.C.), whose mission includes support for both the visual and literary arts.
IWOSC loves to introduce you to great places of local literary history, like the McGroarty Residence, but the Summer Party ALSO introduces next term's Board of Directors, who will be installed as part of the afternoon's program. We'll also be honoring a few of our own.
Please do join us at the festivities.
The menu will include delicious light summertime fare, wine, soft drinks and yummy desserts.
Location
McGroarty Arts Center
7570 McGroarty Terrace
Tujunga, California 91042
Map