Event Description
---
IWOSC's Summer Party!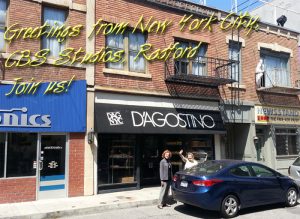 Saturday, August 17, 2013
5:00 – 8:00 p.m
Location:
CBS STUDIO CENTER
4024 Radford Avenue
Studio City, CA 91604
(Near Laurel Canyon and Ventura Boulevards.)
CBS also provides directions here.
For our 2013 summer party, we enjoyed the hospitality of the CBS Radford Studios!
We wined with the Murphy-Goode Wine's California Collection.
We dined on the scrumptious buffet dinner at Carla's Café, by their very own Events d' Elegance.
And we socialized with fellow writers and guests!
We loved being on this CBS lot.
Some of us shared what we know about the history of the lot going back to the days of Mack Sennet.
We shared stories of shows that were shot there and what's happening there today.
We celebrated IWOSC with presentations and prizes.
Prizes!
Attendees were surprised to have the opportunity to win one of many door prizes.
(Each prize was hand-selected by tech writer, IWOSC Webmaster and prize-getter, Deborah Shadovitz.)
TypeIt4Me — for Macintosh
TypeIt4Me is the must-have typing efficiency tool for Macintosh users. It saves you time and ensures consistency.
Visit the site to see!
Default Folder — for Macintosh
It is so much easier to save to the correct folder get to your favorite folders with Default Folder. Watch the Screencast here to see!
1Password — for Macintosh or Windows
Secure passwords are a must, and they are a real pain. Unless you have a safe, secure, and incredibly convenient way to create, store and access them.
Watch the video here to see!
iRig MIC Cast
Because as we've learned in IWOSC seminars, we should know how to read our words aloud.
Because we may be doing interviews.
Becuase it's so handy and easy to use.
Learn more in the product page.
(This is one of the two mics I use to record Computer Talk Radio as I travel the world. ~Deb, webmaster and prize-getter.)
Cables and other surprises by and from RadTech
RadTech makes, well rad tech! Some of the finest computer cables and other computer related tech stuff around. They also resell hand-picked items they find to be excellent. Two years ago attendees loved winning their iPhone cables and we're lucky enough to have their support again.
---
Special thanks to the crew at Carla's Cafe on the Radford lot!