Event Description
---
Seminar
Method Writing: An Organic Approach to Writing
with Presenter Jack Grapes
Saturday, May 18, 2013
"Method Writing" is an organic approach to writing, much as method acting is an organic approach to acting, stressing inner process and deep voice. "Method Writing" consists of various concepts that take the writer through techniques designed to make the writing more compelling and more effective, publishable and productive.
Jack Grapes will present this overview of the writer's creative process,
focusing on his book "METHOD WRITING," a technique he's developed and used in his writing workshops over the last 35 years. Jack will discuss the nature of the creative process, and how that applies to "Method Writing." So bring something to write on: paper and pen, parchment and quill, stone and chisel — whatever works.
He will lead the group in a writing prompt, time permitting.
Our presenter: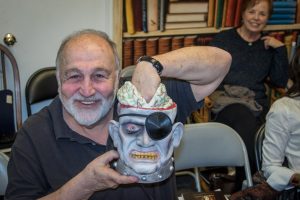 JACK GRAPES, an award-winning poet, playwright, actor, teacher, and the editor and publisher of "ONTHEBUS," one of the top literary journals in the country. He has received three fellowships from the National Endowment for the Arts, and nine artist-in-residence grants from the California Arts Council to teach writing in various schools throughout Los Angeles. Grapes is the author of 13 books of poetry, including "The Naked Eye: New and Selected Poems, 1989-2012." His book "Method Writing" is based on concepts he's developed over the last 35 years teaching writing workshops.
Due for publication in 2013 will be two other books: "The Tender Agonies of Charles Bukowski," based on Grapes' longtime friendship and literary correspondence; and "How to Read Like a Writer," a unique approach to discovering the deep elements of a writer's style.
Jack Grapes was featured on the cover of the Directory of American Poets and Writers, along with Robert Creeley and Tobias Wolff. Over the last 30 years, he has taught over two thousand poets and writers. He was a board member for PEN Center USA West.
His website is JackGrapes.com.