Event Description
---
Seminar
Red Hot Internet Publicity 2.0
Saturday, April 18, 2009
If you think you have your Internet marketing covered with just a website, you might be missing out on a bucket of Internet gold. Attend the IWOSC seminar "Red Hot Internet Publicity 2.0" to understand social media and monetizing sites like Facebook, Squidoo, and Twitter. Learn what to never do on a website, why a blog is a must-have part of any Internet campaign, and how to make the most of the hottest online trends!
Here's what you'll come away with:
The secret to getting thousands of hits on your website and then converting them into sales!
Top internet promotion techniques that won't cost you a dime!
The Virtual Author Tour™, how you can "tour" yourself on the net.
How to use sites like Facebook and Squidoo to build your customer base.
What is Twitter? We'll talk about Twitter and how to use it to drive more sales to your website.
How to create a website that sells your book.
Simple steps to blogging effectively!
BONUS: Time-saving hints to maximize your online efforts without spending HOURS online!

About our presenter — PENNY C. SANSEVIERI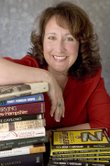 PENNY C. SANSEVIERI, CEO and founder of Author Marketing Experts, Inc. (AME), is a best-selling author and internationally recognized book marketing and media relations expert. She is the author of five books, including "Red Hot Internet Publicity," which has been called the "leading guide to everything Internet." AME is the first marketing and publicity firm to use Internet promotion to its full impact through The Virtual Author Tour™, which strategically works with social networking sites, micro-blogs, blogs, book videos, and relevant sites to push an author's message into the virtual community and connect with sites related to the book's topic, positioning the author in his or her market. "Red Hot Internet Publicity" was just sold to Sourcebooks with a planned re-release in Fall 2009. Visit Penny's website at aMarketingExpert.com to learn more about Penny and to subscribe to her free ezine.