Event Description
---
Discussion
The Lucrative Speaking Business: The Power of Your Personal Story – With Judy Carter
Monday, July 27, 2015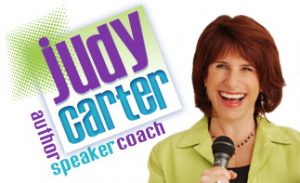 IWOSC is pleased to present an exciting program with international speaker, coach, author and comedian JUDY CARTER.
Do you shy away from public speaking even though it can help you promote your writing career and earn you extra money?
All writers need to know how to do something that's scary: speak in front of others. Whether you are promoting your projects, pitching your screenplays, or talking about why you write – the way you communicate "The Story of You" needs to inspire.
You don't have to wait for your book to be bought, your movie to sell, or your play to be produced to tell your story. There is a speaking market out there desperate for speakers who can motivate others with their messages.
For a long time Judy Carter, author of "The Comedy Bible," has been making people funny. Now, she is helping people go deeper by finding and speaking their message. In this workshop, based on her new book "The Message of You," she will show you that your life story has a message that not only can captivate others, but be turned into a speaking career that can make a difference in other people's lives, including your own.
WHAT YOU'LL LEARN
Finding your Message from your personal journey from "mess-to-success"
How speakers get booked
What topics are the money-making topics
Building a connection with any audience
Marketing your message to a paying audience
WHO SHOULD ATTEND
Authors who want to speak to improve their book sales
Writers who want to improve their storytelling skills
Entertainers who want to earn money by speaking
Entrepreneurs who want to speak to sell products
Survivors who have a great story to tell and want to get speaking gigs
Speakers who are looking for new material and get laughs
Our star speaker, JUDY CARTER:
At an early age, Judy Carter discovered that the messes in her life were great comedy material. Judy's message of using humor as a transformational tool led to her being featured in the Wall Street Journal, New York Times, The Oprah Winfrey Show, CNN, as well as being a frequent contributor to National Public Radio's "All Things Considered" and a weekly blogger for Psychology Today.
Currently, Judy is an international keynote speaker, speaking coach, and workshop leader on the power of personal stories and humor to inspire others and decrease workplace stress. Her "wake-them-up" keynotes have thrilled attendees at many Fortune 500 companies including FedEx, Oracle, Disney, Boeing, as well as hundreds of finance, healthcare and women's events.
As an author, Judy doesn't like to brag, but she did write the Bible. No joke, she's the author of "The Comedy Bible" (Simon & Schuster) as well as "Standup Comedy: The Book" (Dell Books). Judy's book, "The Message of You: Turn Your Life Story into a Money-Making Speaking Career" (St. Martin's Press), teaches readers how to become her competition.
Her latest book is an interactive workbook entitled: Finding Extraordinary Stories in an Ordinary Day.
Judy lives in Venice Beach, California with her dogs and 6-toed cats who allow her to live with them as long as she feeds everybody.