Event Description
---
Monday, January 25, 2016
7:30 to 9:15 p.m. (networking follows the program)
WHAT DO PUBLISHERS WANT?
As the greatest writer of them all once said, "That IS the question." We all know that writing an interesting, involving, and top-quality book is a must, if you want to attract a good agent or a mainstream publisher — and especially if you want to publish it yourself.
But what happens after you write "The End"?
What goes on "behind the scenes" at publishers and agencies that determine if they say Yes or No? What do publishers and agents need from authors themselves, with regard to pre-existing fame and media profile, platform, credibility, education/credentials, and the like, besides writing a good book on a worthwhile topic?
What is the step-by-step journey that a manuscript travels behind closed doors at a publisher, after you or your agent or referral gets the book in the door? How are books — and authors — publicized and promoted in today's social media, multi-platform world?
With physical bookstores on the decline — but a few valiant indies starting to recover again — how important is the physical bookstore to a self- or small/medium-press published author?
How has the change from emphasizing professional career authors (e.g., Stephen King, Joyce Carol Oates) to "overnight superstar" reality-TV celebrities changed things — and what about E-books, Kindles, and iPad apps?
As the Great Recession finally shows signs of beginning to lift, it is more important than ever to find out how to advocate for yourself, how writers will be able to make a living, and how to navigate these game-changers in the 24-hour spin cycle that is today's publishing world.
IWOSC's kickoff panel of 2016 will address all of these questions and more.
Panelists confirmed include veteran editor and book coach (and IWOSC member) Monica Faulkner and Tom Benton, a senior sales and marketing executive with Penguin/Random House. Additional panelist to be added, possibly a book publicist, self-publishing and/or small-press coaches, and a literary agent.
IWOSC's own Telly Davidson will moderate — and there will be plenty of time set aside for audience Q&A with the panel, and networking afterward.)
Memories from the panel: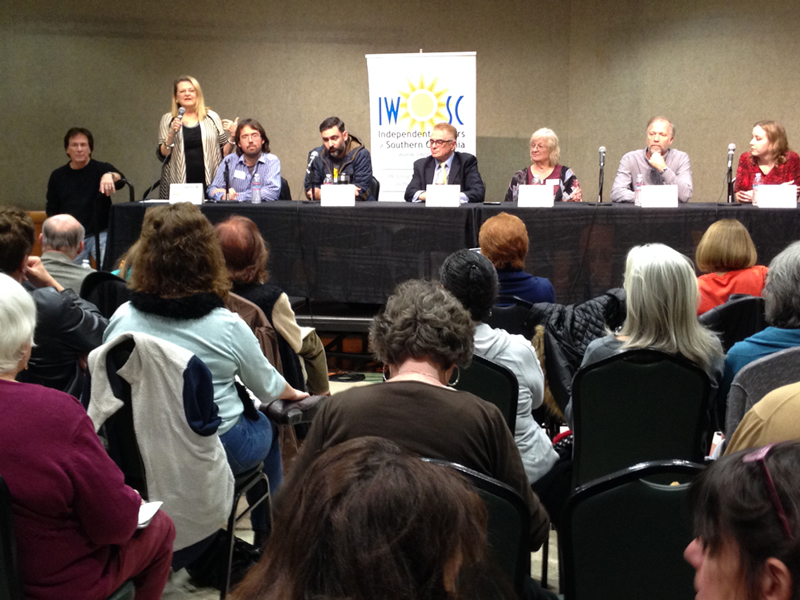 President Flo Selfman welcomes everyone