Event Description
---
IWOSC Reads Its Own
Sunday, February 11, 2018
2:00 to 4:00 p.m.
FREE!
Poems. True stores. Monologues. Deep thoughts. Humourous words. Exciting adventures. You never know what the day's entertainment will bring when you join us for this unique event. Come be entertained by twelve dramatic readings by a select dozen of our talented and brave members as they read some of their own writing aloud for us. Their selections may be published, unpublished, or works in progress.
The public, as always, was welcome. Friends and family, too. Some made a day of it. There's so much to do and see in Pasadena!
A comment after the event:
GREAT TIME BY READERS and audience and especially Ruth Frechman, a great MC and Comedian. She made it a literary treat. I liked the way she threw in pearls of little known silly facts of the authors in her introductions making the event fun and totally unstuffy.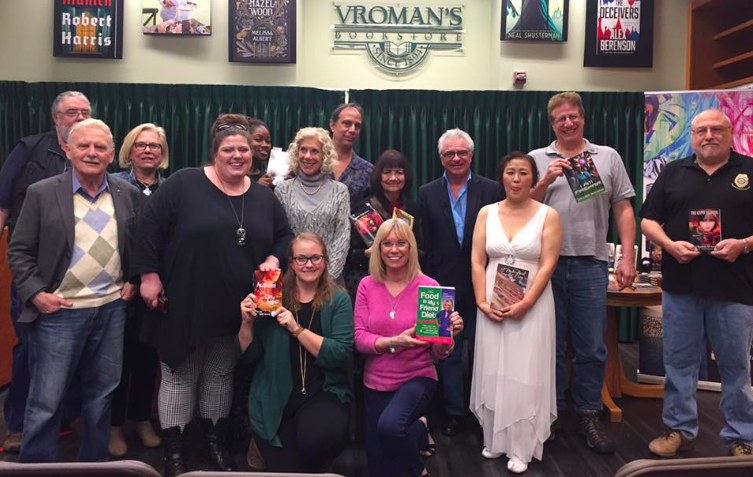 We were entertained by readings from:
Akilah Trinay
Miriam Birch
Jessica Alexander & Dana Melton
(pen name Kirby Howell)
Neil Yuzuk
Willian Anthony
Lisa-Catherine Cohen
G.Lloyd Helm
Zoracious D. Cree
Bo Kyung Kim
Gerald Everett Jones
Vibiana Aparicio-Chamberlin
Margaret York
Jim Caccavo
Location
Vroman's Bookstore
695 E Colorado Blvd
Pasadena, California
626-449-5320
There's parking on the street and behind Vromans.