Event Description
---
The writing business requires a creative mind, especially when one expects it to create an income. Fortunately, the demand for content is expanding. Writers can make this business grow by embracing new and evolving applications in journalism, books, plays, and more.
Our eclectic panelists have done just that. They'll describe their success steps, and explain where they found opportunities, how they met their challenges, and what new outlets they see on the horizon.
OUR PANELISTS:
TERRI CHENEY attended Vassar College. She graduated with honors and continued her studies at UCLA School of Law, following that by specializing in intellectual property and entertainment. Over the course of her sixteen-year career, Ms. Cheney represented many celebrities and major motion picture studios, including Michael Jackson, Quincy Jones, Universal, Columbia, and more. Her pro bono work ranged from counseling local theaters to petitioning the United States Supreme Court on behalf of the ACLU. After years of struggling with manic depression, Terri decided to leave the law and devote her advocacy skills toward writing about her illness, and encourage the mentally ill to tell their own stories. She was appointed a member of the Community Advisory Board of the UCLA Mood Disorders Research Program, the nation's largest nonprofit research consortium regarding manic depression. Her book, "Manic," tells her journey.
LARRY NEMECEK began building his career in local Oklahoma journalism, after working for a BA and MA in theatre. But it was his Star Trek reference research that put him on the map. Larry's annual "TNG" guides to the hit "Star Trek: The Next Generation" series caught the eye of Star Trek's TV writers and Pocket Books. Mr. Nemecek's "ST:TNG Companion" became the first official episode guide for modern Star Trek and a 1992 genre bestseller. Two years later, Larry moved to Burbank, California where he because an author/editor/consultant and archivist within the Star Trek franchise.Additionally, Mr. Nemecek held the position of Managing Editor of "Communicator" Magazine (1998 to 2005), art coordinator, writer and consultant for "Star Trek Fact Files" (1998 – present), columnist for "Star Trek Magazine" in the UK (1998 – present), for the USA (2006 – present), and consultant for Star Trek: World Tour, Star Trek: The Experience (Las Vegas), Star Trek: Science Tour, and Star Trek: The Exhibition. He is also an on-camera authority for TV documentaries, a DVD commentator and is a promoter for live events. You can learn more about Larry at his TREKLAND blog, LarryNemecek.blogspot.com, and at LarryNemecek.com.
Author of 25 published plays and produced worldwide, Jonathan Dorf is co-chair of the Alliance of Los Angeles Playwrights, resident playwriting expert for Final Draft and The Writers Store, for whom he created Playwriting101.com, Google's top-ranked playwriting site, and co-founder of YouthPLAYS.com, the online publisher of plays for young actors and audiences. Jonathan has served as US Cultural Envoy to Barbados, Visiting Associate Professor of Theatre at Hollins University, and as a guest artist at schools and conferences from Nebraska to Singapore. He works as a script consultant with playwrights and screenwriters all over the world, and holds a BA in Dramatic Writing and Literature from Harvard University and an MFA in Playwriting from UCLA. He is also Co-Chair, Alliance of Los Angeles Playwrights.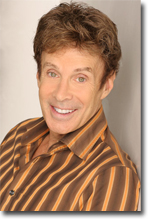 PAUL RYAN recently co-starred as Bruce on "Desperate Housewives" and is in the running for a show on Oprah's new OWN Network. Paul's new book "The Art of Comedy: Getting Serious about Being Funny" was published by Random House; his screenplay is "J.A.P.P." and last year he wrote, directed, produced, and starred in the Los Angeles theatrical run, "Miss International Princess Pageant."In addition, for the past year Mr. Ryan produced the series "A BraveHeart View,"and emceed and produced "The 2009 BraveHeart Awards," with recipients including Maya Angelou and Carol Channing. He will do the same for The 2010 BraveHeart Awards with Marianne Williamson and Florence Henderson. Ryan has hosted and interviewed for NBC, CBS, PBS, ET, CNBC, BBC, KCAL 9, and KTLA, channel 5. Paul's credits also include celebrity correspondent for "Entertainment Tonight;" series co-host for "Mid-Morning L.A," host/producer/owner of 675 in-depth TV celebrity talk shows with a "Who's Who of Hollywood," most recently "Feel Good TV with Paul Ryan & Friends."
Paul is also a film actor and has guest-starred on many TV shows. His speaking engagements on "Hollywood, Health, & Humor" have taken him around the globe, and he hosted and co-produced "Celebrity Master Class" for the Screen Actors Guild Foundation. Learn more at  PaulRyanProductions.com.
TRACY TRIVAS, a graduate of Dartmouth College, won a Dartmouth Graduate Fellowship to study Victorian Literature at Oxford University, England. She received her Masters Degree in English from Middlebury College.  She directed a Gifted and Talented program in a Los Angeles school and has written gifted and talented workbooks for McGraw-Hill as well as an adult non-fiction book, "A Princess Found" (St. Martin's Press), which was voted a 2009 "Best Adult Book for High School Students" by School Library Journal. "The Wish Stealers' (Simon & Schuster) is her first book for children.
MARILYN ANDERSON (Moderator) is an award-winning comedy writer, speaker, and screenwriter. She has been interviewed on over 250 radio and television shows, as well as being featured in magazines and newspapers nationwide. Marilyn's TV credits include "Murphy Brown," "Fame," "Sherman Oaks," "Friday the 13th," and "Carol & Company." Her book "Never Kiss a Frog: A Girl's Guide to Creatures from the Dating Swamp" has been published in 10 countries and generated a line of merchandise based on the frogs in her book. Women in Film honored Ms. Anderson with the Luminus Award for positively depicting women in film and television programming. She is currently producing two of her own movies and a webisode series. Also, she had an MOW produced on Lifetime TV last year.