Event Description
---
10:30 am – 1:00 p.m.
IWOSC members: $15
Non-members: $35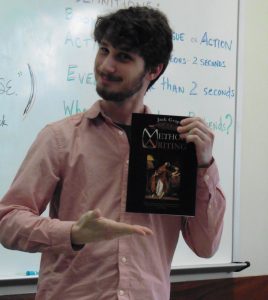 "Method Writing" is an organic approach to writing, much as method acting is an organic approach to acting, stressing inner process and deep voice. "Method Writing" consists of various concepts that take the writer through techniques designed to make the writing more compelling and more effective, publishable and productive.
Back by popular demand, Jack Grapes will present this overview of the writer's creative process, focusing on his book "Method Writing," a technique he's developed and used in his writing workshops over the last 35 years.
Jack will discuss the nature of the creative process, and how that applies to "Method Writing." So bring something to write on: paper and pen, parchment and quill, stone and chisel — whatever works.
He and his son, Josh, will lead the group in a writing prompt, time permitting.
[Update: they led a fantastic writing prompt!]
Our presenters: Jack and Josh Grapes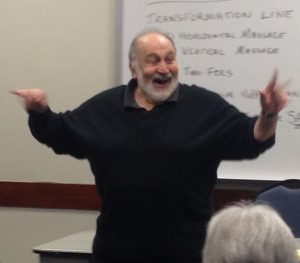 Jack Grapes is an award-winning actor, poet, playwright, publisher, editor, and teacher.
He wrote and starred in Circle of Will, a metaphysical comedy about the lost years of William Shakespeare which ran for several years at the Globe Theatre in Hollywood.
He's the author of 8 1/2 books of poetry, including the three most recent The Naked Eye, Poems so Far, and All the Sad Angels. All available on Amazon.com.
Jack is editor and publisher of the highly acclaimed literary journal Onthebus.
He teaches classes based on his METHOD WRITING program. Both Method Writing and Advanced Method Writing are available on Amazon.com.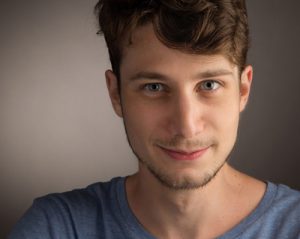 Josh Grapes is a graduate of Sarah Lawrence College.
He's a poet and writer, and a singer/songwriter.
His most recent CD is Creature Comforts, and a book of poetry.
He's also working on an alternate history of the United States.
He teaches special writer classes and workshops.