Event Description
---
Seminar
Stacie Chaiken's "What's the Story?" Workshop
Saturday, July 12, 2014
10:30 am to 1:00 p.m.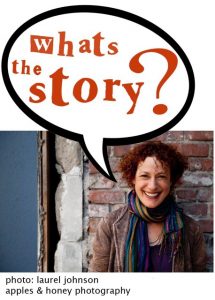 Stacie Chaiken's What's the Story? workshop is for artists who are wrestling with personal (not necessarily autobiographical) story, for any genre.
It's not about "what happened"; it's about what you want to say, and why.
What's the Story? is an exercise in empathy, an innovative group-process approach to selecting into the morass of information that is our lives.
Please bring a page of brand new writing about something that means a lot to you. If you have a project in mind or in-progress, you might bring a page of new writing about that project. What's important is that the writing you bring be new and immediate; it does not have to be polished or good.
"Stacie has the touch of a magician in her ability to extract the very best from her students. She is unwaveringly supportive and has a keen eye and ear for 'what works' dramatically." –student comment
Our Presenter:
Writer-performer STACIE CHAIKEN is the founder and artistic director of LA-based What's The Story? — a workshop for artists wrestling with personal story for the stage and the page. Chaiken was on the faculty of the USC School of Theatre, and is a Fulbright Senior Specialist in the field of Performance and Story. She recently served as the International Creative Director for the twentieth commemoration of the genocide in Rwanda.
Chaiken is the creator of solo plays including "The Dig: death, Genesis & the double helix," "Looking for Louie," and "Next Year in Jerusalem." Her printed work includes "The Poet," "A Valley Girl Midrash," and "A Wish Book." As a performer, Chaiken has appeared on television and film, in plays on- and
off-Broadway, and in theatres throughout the US and abroad.
Stacie's websites are: StacieChaiken.com and WhatsTheStoryLA.com