Event Description
---
Summer Party in the Heart of Hollywood
This summer our party is in the heart of Hollywood, at the second oldest eatery on Hollywood Blvd. We're also touring the historic Egyptian Theater located right next door.
Come early to meet with friends and catch up on news. Our back room will be ready by 12:30. If you come earlier look for people with name tags at the bar. We'll then gather in the back room and spill over into the patio.
Oh, and we'll have a few prizes to be won, too.
Sorry, reservations are now closed.

Date and Time
Saturday, August 12
Noon-12:45
45-minute private docent-led tour of the historic Egyptian Theater.
(Optional: $9 extra; 65+, $7.)
12:30
Our private back room and patio open at the Pig'n Whistle. We'll enjoy each other's company and order our lunch choices.
1:30
Lunch is served.
We have our private room and patio until 5.
NOTE:
Please arrive early enough so you can order.
Location
Pig'n Whistle
6714 Hollywood Blvd.
Los Angeles, CA 90028
Pig'n Whistle phone: (323) 463-0000
Pig'n Whistle website

RSVP and Meal Selection
We'll be placing our actual meal order in person at the party so there's no need to make a choice now. However, we'd love for you to know what's on the menu.
The Menu
Salad
your choice of either
Mixed Greens:
Tender Mesculin Greens tossed in Vinaigrette Dressing
or
Caesar:
Romaine Hearts tossed in Homemade Caesar Dressing, topped with Aged Parmesan & Brioche Croutons
Main
Pig N Whistle's Shepherd's Pie 
Casserole of Beef slow-cooked in Gravy with Peas & Carrots, Topped with Creamy Mashed Potatoes & Jack Cheese
Traditional Bangers & Mash
Juicy Grilled Irish Sausages served with Sauteed Onions, Hand Mashed & Gravy
Oven Roasted Free Range Chicken
Rosemary Chicken Breast over Mashed Potatoes & Garlic Jus
Creamy Fettuccini Alfredo
Homemade Alfredo Sauce, Shallots & Parmesan
Angel Hair Pasta
Fresh Roma Tomato, Sweet Basil, Garlic and Olive Oil
Beverages
Iced Tea, Lemonade, Coke, Diet Coke, Sprite, Gingerale
All other beverages may be purchased at the bar and paid for separately.
Parking & Transport
Car parking:
There are several private parking lots around the area.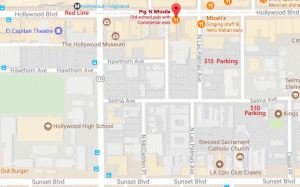 Lucky for us, the best-priced lot, $10 for the day, is a very close .2 miles. Enter on Selma Ave, between N Cherokee Ave and Cassil Place (very close to Cherokee). There may be a sign saying Blessed Sacrament preparatory school. (This is the back side of Blessed Sacrament Catholic Church.)
If you want to spend $15 on parking instead, you can park a tad closer at the Classic parking Inc lot. Enter that lot on either Las Palmas or Cherokee just ½ block south of Hollywood Blvd.
There is also metered parking on Hollywood Blvd but it's a 2-hour limit. Meters are $2 per hour.
There is also other metered parking nearby.
You may also find free street parking.
Train:
The Red Line comes into Hollywood and Highland, a very short walk to our party
NOTE: As of 2014 Transfers between trains and even between buses and trains are free. This was verified in person but you can also read about it here. The TAP card stores your time of first entry, enabling you up to 2 hours to complete your 1-way journey. However, this does not work when you pay a bus fare with cash or a token. Read TAP FAQ here.
Bus:
Many buses stop on Hollywood Blvd. 212 (Hollywood via La Brea Ave), 217 (Metro Local), 222 (Sunland), 312, 780
Carpool:
If you'd like to carpool consider posting on our Yahoo discussion group or on our Facebook page.
Pricing
Prices August 3 through August 9
(no reservations accepted after August 9)
Member – $33  (one guest also allowed at this price)
Non-Member – $37
Tour
Under 65 – $9
65+ – $7
Prizes
Contour 2 for Mac, newly released.
At one time or another, every writer has experienced the dreaded, "now what do I write?" rut that brings even seasoned writers to their knees. Kiss those days goodbye.
Follow the Contour system and answer just these 4 questions and you're well on your way to creating a masterpiece: Who is the main character? What is the main character trying to accomplish? Who is trying to stop the main character? What happens if the main character fails?
(Windows users can purchase  Contour 2 later this year.)
StoryMill
Writing a great novel doesn't just happen, it is designed. It is thought out. It takes a writer who has discipline, creativity and open-mindedness. You also need a place for organization as well as a place to write. StoryMill is both.
Take your idea for mystery, romance, adventure, action or science fiction and turn it into that novel you know is within but just needs a little help getting out. Developed to ease a person into the writing experience, StoryMill is purposely designed to include all the elements essential to writing as well as providing a place for organizing all the other parts and pieces.
Kidz Gear Headphone for kids
The first adult-featured stereo headphones made specifically for kids. Manufactured with the same high quality components as those used in adult headphones costing far more, the headphones deliver extremely rich sound quality for a variety of audio content. Featuring the proprietary KidzControl Volume Limit Technology and a built-in volume control function, these headphones are also the safest headphones available for the little ones. They are a must for children in the car, on the plane or hanging out at home.
We have the carry bag for you, too.