Event Description
---
Winter Party at Taix French Restaurant!

We invite all Southern California writers, writers everywhere and their friends to join us for an afternoon with other creative souls, as we enjoy delicious French country cooking and sparkling conversation.
We'll have a private room for our party and several hours to relax and enjoy the Old World charm of this 90-year-old, family-owned restaurant.
Sorry, the opportunity to RSVP and attend has now passed.
Party Date
Sunday, December 9, 2018
12:30 p.m. to 4:00 p.m.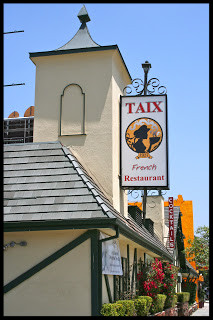 Pricing
This price includes an entree, dessert, coffee or tea, gratuity, and sales tax.
Members: $33
Nonmembers: $36
Menu
Our lunch starts with baguettes, followed by a salad of organic greens with vinaigrette dressing.
When you RSVP here you must choose from the following entrees:
Beef Bourguignon
Tender pieces of beef simmered in a burgundy wine and mushrooms
Fresh Boneless Trout Almondine
Sautéed boneless trout, grilled almonds, lemon emulsion, and leek duxelles fondue
Vegetarian: Pasta Monegasque
Penne pasta with tomatoes, garlic, fresh basil, olive oil.
For dessert, you'll be able to enjoy choosing from a platter of house-made desserts, such as a Peach Tart or Panna Cotta with Berry Compote.
Coffee, tea and iced tea are included with lunch.
There is a full bar at Taix, so you may order wine or cocktails.
Location
Taix French Restaurant is in the Echo Park area,
just east of Alvarado Street, immediately north of Echo Park Lake.
Taix French Restaurant
1911 W. Sunset Boulevard
Los Angeles, CA 90026
Phone: (213) 484-1265
Parking
Taix has their own parking lot with parking for a flat $3.50 for the afternoon.
RSVP to attend!
Sorry, registration has now ended.