Event Description
---
Panel:
Writers and Social Media: What You Could (and Should) Be Doing Now
Monday, March 26, 2018  
7:30 to 9:15 p.m. (networking follows the program)
IWOSC members – free
Non-members – $15
This Panel has passed but you can purchase a recording of it if you'd like.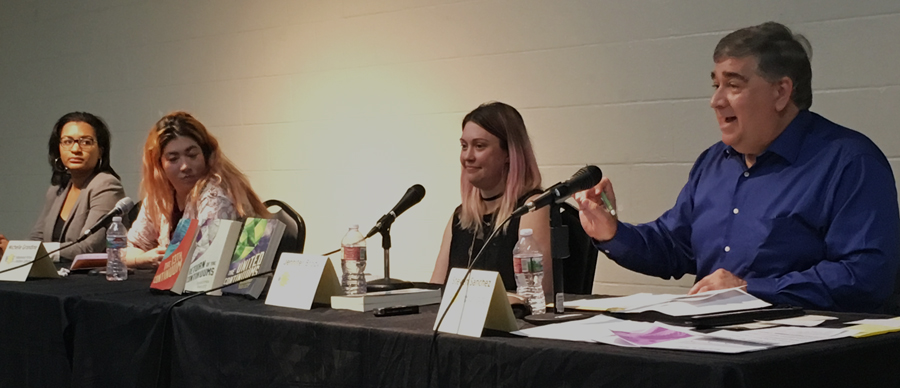 You're a Writer. You've got words to write. It's hard enough to get the words down, put a book together and get it published. Who's got time to be a media star or marketer?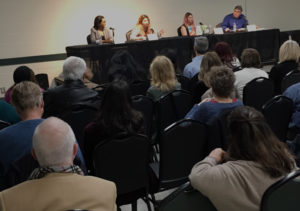 We hear you. We struggle "doing social media" too. Still, there are some pretty amazing success stories out there. Nobodies who got a million dollar book deal because they rocked something called a "blog tour." People who leveraged a single book they were working on into home study and college curricula used all over the country, all from a humble Twitter following. Hmm. Maybe worth another look.
So you're not ready to be a YouTube Star, but you do have a Facebook account, your cell phone CAN record videos, and you're willing to give it a try. Great! What should you do first? How much time and money should you budget for Social Media? What really works so you're not wasting that precious time and money?
That's where we come in. The Independent Writers Of Southern California's Social Media Marketing Panel. Writers, who know and are using Social Media, talking about the practical things people just like you can do to use Social Media effectively.
How are WRITERS using Social Media to sell books?
What's working in 2018 (and what looked promising in 2017 but isn't working as well today)?
What's your Amazon Author Page got to do with Social Media?
How can Social Media help you get legitimate book reviews that help sell books?
What kind of Social Media Presence do you really need and what does it take to maintain it?
How much time (and money) should you budget for Social Media?
How do you START, from zero, with Social Media?
Which Social Media networks are most effective for Writers?
How do you know if your Social Media efforts are even working?
How can a writer who's not comfortable in front of a camera use video?
How do you know if something isn't working and safely stop doing it?
Where can you go to get help?
We get it. You'd rather be writing (or even going to the dentist) rather than adding Facebook ad marketing, tweeting, Instagramming, chatting, blogging, vlogging, or whatever the heck the new made up thing is today to your daily routine. But, if a little posting, creating a few graphic memes that go viral, or engaging some of your readers through the safety of the Internet gets you and your writing onto the radar of some of the 3 billion people using the Internet, wouldn't that be worth it?
We think so. We hope you do too and will join us with other like-minded Writers, to learn how 2018 can be the year you go from obscurity to well-known and beloved Author.
Our Panel of new faces to give you some fresh ideas.
Our social media panelists:
We love hearing from members and all attendees.
Some great words from attendee Linda Ruggeri

So I had a chance to hear/see/get my mind frazzled by Alaia Williams, Jen Brody and Michelle Grondine last night at the IWOSC meeting/panel (where the very sweet, kind and knowledgeable Steve Sanchez moderated). Let me just say that these three ladies blew the crowd away with 90 intense minutes of what we SHOULD and SHOULDN'T be doing on social media (as authors).

I consider myself pretty social media savvy, but I walked away with some great tips and good homework on how to be BETTER. I didn't get a chance to stay for the socializing part afterwards, but it was fun to see everyone in the crowd with their heads down, scrambling at full speed to write notes after notes, trying to get it all in (the recording of the session is available on the IWOSC website for a minimal fee) Writers and Social Media: What You Could (and Should) Be Doing Now – Independent Writers of Southern California.

And yeah, after so many years of standing on the sidelines, I finally ended up getting a Twitter account today:  @lindaruggeri

So proud to be a part of BookPod and IWOSC!