Event Description
---
Seminar:


Writing Memoirs that People WANT to Read!
Writing Tips and Techniques to Bring Your Story to Life
Presented by Ina Hillebrandt
Saturday, March 16, 2019
10:30 am – 1:00 p.m.
(This is the seminar originally scheduled for January.)
IWOSC members: $15
Non-members: $35
If you RSVP'd please arrive by 10:20 to be assured a seat. Advance registration is now closed, you may come the day of the seminar, pay at the door and attend, space permitting.
Note: We've learned that the parking lots at the Veterans Memorial Building may be restricted, due to an Easter Egg Hunt in the park There is street parking south and west of the Building. If you are driving, please allow extra time to park and walk a couple of blocks (or more). Thank you!
---
Writing Tips and Techniques to Bring Your Story to Life
Using Ina's special provocative techniques in this hands-on writing seminar, you'll be writing a short tale to immediately get the hang of this new style!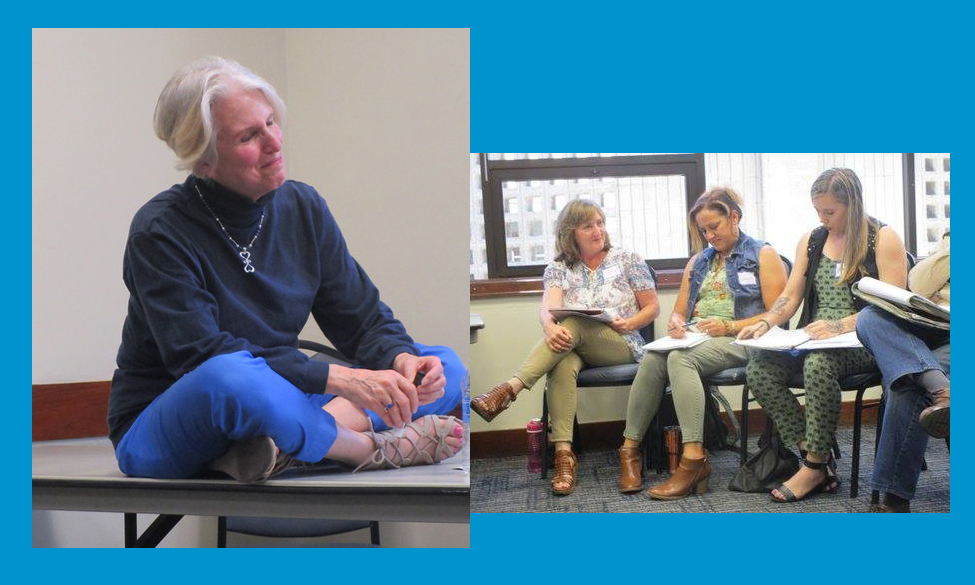 You'll experience for yourself how fun and cathartic it can be to write stories from your own life.
You'll get creative practical feedback and writing tips to write memoirs that people will want to read — even those who are not your mother or child.
You'll see why internationally celebrated storyteller and new author Michael D. McCarty wrote about Ina's workshops, "My inner critic disappeared. He's somewhere in the Bahamas."
About our presenter — Ina Hillebrandt
Leading this IWOSC memoir writing intensive, Ina will draw on her expertise in the key areas of bringing your own story to life on the page. Having worked with survivors of trauma, including sexual abuse and the Holocaust, Ina knows exactly how to break the fear-cycle of "triggering" memories and get them down on the page as painlessly as possible. She will share her proven tips and techniques on memory recall, story structure, and telling personal stories in the most lively, page-turning fashion, including her unique ability to help writers inject humor into their work and into the writing process itself.
The author of How To Write Your Memoirs, Fun Prompts to Make Writing…and Reading…Your Life Stories A Pleasure, Pawprints, You Are Who You Eat and other books, Ina is also a veteran of Madison Avenue and has been a featured guest on a variety of TV and radio shows. In summary, she's an author, editor, and publisher specializing in memoir, who brings a wealth of writing, publishing, marketing, psychological and analytical experience to the memoir writing arena.
You can check out her websites at InaTheMemoirCoach.com and InasPawprints.com.