Event Description
---
Webinar:


Screenwriting & TV Writing with Pilar Alessandra: 90-minute Q&A
Wednesday, July 10, 2019
7:00 p.m. to 8:30 p.m.
Please be logged into the webinar at 6:50 if possible.
IWOSC members: $15
Non-members: $35

This month we're presenting an online Webinar as our monthly Seminar. It will take place in the comfort of your own home via ZOOM video conferencing on your desktop computer or via the free Zoom app on iPad.
---
Are you a screenwriter or thinking about writing a movie or TV script?
Our popular seminar leader, Pilar Alessandra, author of The Coffee Break Screenwriter, answers your questions about the craft.
Through her well-known On the Page consulting service for writers, she shares tips and techniques and helps writers finish their scripts fast.
Anything goes in this 90-minute video-conference Q&A. So, bring your questions about brainstorming, outlining, character work, dialogue and page-writing.
Can't make it to the live session? It will be recorded and can be ordered online.
Writers can ask about:
Structure
Outlining
Character work
Page craft
and any other questions you may have.
NOTE: This will take place online. Between our receipt of your payment and the day before the webinar you will receive the URL and meeting ID. Please do not expect this immediately upon registration.
Our presenter
Pilar Alessandra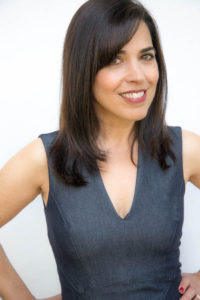 Pilar Alessandra started her career as Senior Story Analyst at DreamWorks SKG.
In 2001, she opened the Los Angeles-based On the Page Writers' Studio, dedicated to teaching and consulting with screenwriters and TV writers at all levels.
She's the author of the top-selling scriptwriting book, The Coffee Break Screenwriter, and host of the popular On the Page Podcast.
An in-demand speaker, she's taught seminars at DreamWorks, Disney Animation, ABC and CBS, and traveled the world teaching in the UK, China, Poland, Vietnam, Colombia, Portugal and South Africa.
Pilar's greatest accomplishment is the success of her students, many of whom have won top competitions such as the Nicholl Fellowship, are working on TV shows such as The 100, Silicon Valley and Grey's Anatomy, and have sold feature films to major studios.
For more information about Pilar, her classes, consultations, book and podcast, go to OnThePage.tv.
Location
Any desktop computer or an iPad.
Registration info
Reservations Required
Sorry, reservation is now closed. The deadline was noon Tuesday July 9, the day before the seminar.
Because this is online, there is no pay-at-the-door option.