Event Description
---
Panel:


Websites for Writers in 2020

Monday, March 30, 2020
7:30 to 9:15 p.m. (networking follows the program)
IWOSC members – free
Non-members – $15
Jump down to register


---
It's time to get serious about your Author Website. In the spirit of the Agents Panel, we've invited a few website developers to answer any website or WordPress technical question you may have. They are also coming willing and able to be hired to consult or actually develop your website for you.
You know you need a website in 2020 to do the following:
Showcase and sell your book
Tell readers whatever you want to let them know about you
Engage readers with your very own blog
Provide your media kit for those who need your bio and photo
Feature glowing testimonials from readers who love your writing
Tell or past and future events such as book tours, signings and speaking events
Link to book trailers or videos
Provide a controlled way for people to contact you
And more!
Maybe you have a website, but it's looking very stale. Or maybe you need a website and don't know where to start, how much to spend, or what to do if you get stuck.
No more excuses. Each member of our Author Website Panel is a web development expert and can consult to guide you or build as little or as much as you need.
Issues we plan to cover include:
What options are there for creating an "author" website?
The difference between a website provided by your publisher and one you publish yourself.
Where you should host your website?
What are the essential elements an author website must have?
What are the costs involved in having your own website?
Technical issues such as SSL, CCPA & GDPR Privacy Law Compliance, Accessibility issues, and more.
What's a reasonable cost for having someone build your website and how to engage them?
And any questions you may have!
We've told the panelists that people should be able to get a starter website built for under $1,000 and they agree. So you've got the high end of your budget. But, if you want something exotic, these experts are the folks who can do it, or who can connect you with someone who can.
No more excuses. 2020 is the year you get an AWESOME website!
Our panel:
Scott Vossburgh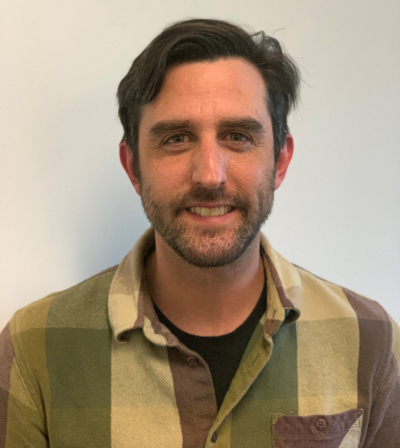 As Sr. Developer at UCLA, Scott Vosburgh, oversees the building and maintaining of UCLA's high profile websites as part of the Strategic Communications department.
Outside of UCLA, as Owner of Harborknot, he also runs his web development llc., Harborknot, where they specialize in building customized WordPress websites, plugins and component libraries.
Additionally, Scott hosts the monthly WordPress Meetup in downtown Santa Monica at Metropolis Coffee Shop.
Scott has been building websites since 17 years old when he learned html working on his high school's website in the suburbs of Chicago, Il.. With a BFA in Graphic Design from Columbia Chicago, his career started as a designer and slowly transformed into web development. He's worked on hundreds of sites at various agencies across the country both remote and in-house. This includes some of LA's largest local brands like the Broad Foundation, City of Marina Del Rey & UCLA.
In his free time, Scott can be found hiking around Los Angeles or sailing on the ocean.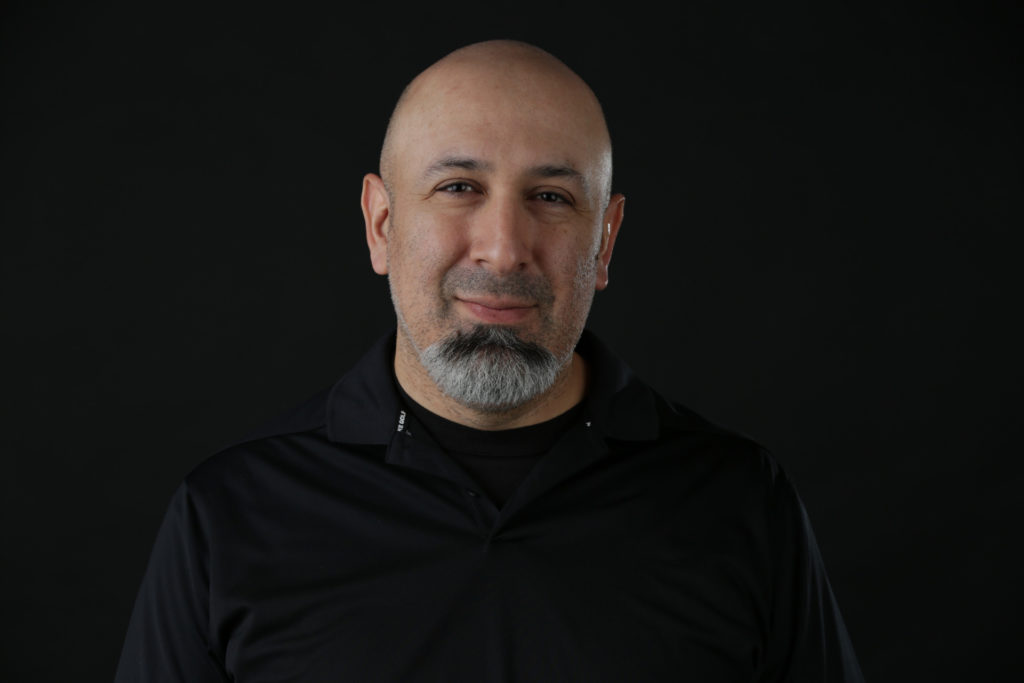 Jason Orellana
Jason Orellana is the founder and lead developer at Emphasis.LA – a digital marketing and website development agency in Los Angeles, California.
Jason began studying web development in 2014 and started his entrepreneurial journey in 2016 after graduating valedictorian of his class from ITT. He quickly realized his excitement for creating websites that helped other people with achieving their goals. Jason immersed himself in courses, meetups, WordCamps, and other networking activities to strengthen his skills and make connections with other like-minded people.
In 2017, Jason founded Emphasis.LA with his wife and business partner, Josie on the foundation of helping small businesses and non-profits create an online presence and expand their exposure from LA to the world. Together they learn from mentors and other business owners through the generosity of sharing knowledge. With each step they diversify their foundation and strive to deliver value and infinite prosperity for their network in the form of captivating websites and effective digital marketing strategies.
The Emphasis name came from the HTML language 'em' tags which are used to give text importance and make it stand out from other surrounding text. We believe small businesses should stand out, be seen, be heard…say it with Emphasis!
Connect with me on LinkedIn.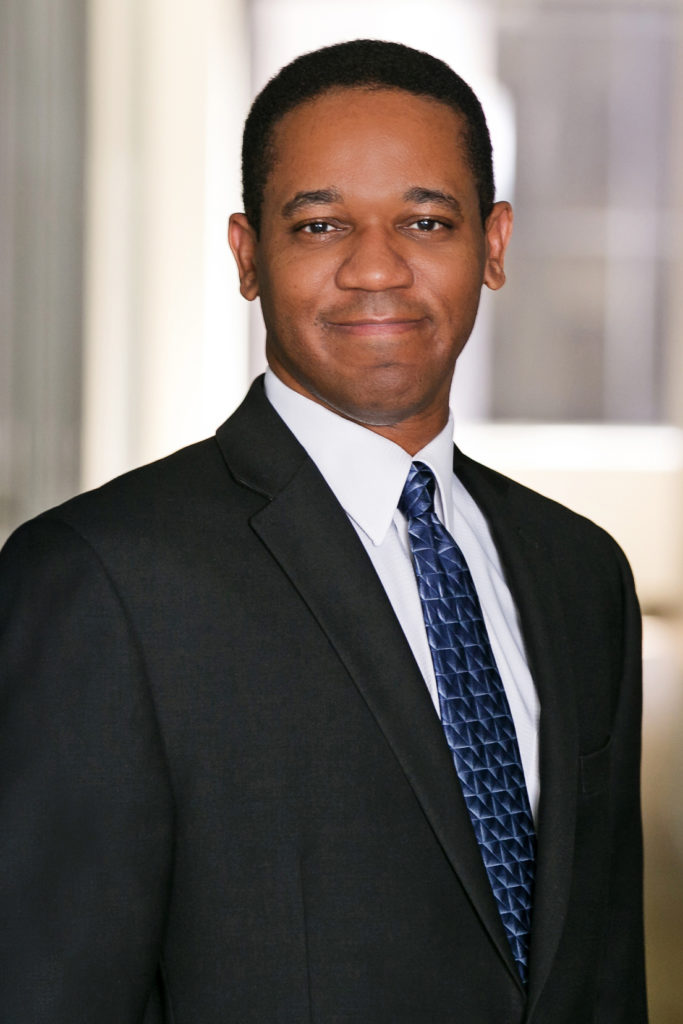 Austin Dragon
Austin Dragon is the author-publisher of over 20 books in science fiction, fantasy, and classic horror. His works include the cyberpunk detective Liquid Cool series, the epic fantasy Fabled Quest Chronicles, the international epic After Eden Series, and the classic Sleepy Hollow Horrors.
He is a native New Yorker but has called Los Angeles, California home for more than twenty years. Words to describe him, in no particular order: U.S. Army veteran, English teacher, one-time resident of Paris, France, ex-political junkie, movie buff, Fortune 100 corporate recruiter, renaissance man, futurist, and dreamer.
He has been a recruiting professional in such diverse industries as Healthcare, Tech and IT, Banking and Finance, Manufacturing, Sales and Marketing, and HR. His corporate and consulting experience also includes executive recruitment, management, and training.
As a volunteer, he has been very involved in public education reform with a focus on literacy, including once running for school board.
For the last 15 years, he has served on the board of Strive, a South LA inner-city after-school program academy. He also serves on the board of a charter school and parent education advocacy group.
Moderator: Steven Sanchez – Vice President, Independent Writers Of Southern California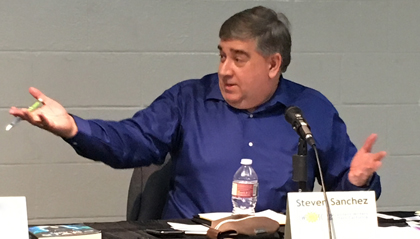 Steven helps people build their online platforms. For more than 20 years his Los Angeles-based Internet Agency has worked for leading companies in industries such as travel, health and racing to create Internet solutions that work for both business and consumer interests.
Steven has helped companies large and small start their web businesses, publish online and serve the needs of their followers and customers.
He has also served as technical editor on bestsellers such as Homepage Usability, Web Design on a Shoestring and The Unusually Useful Web Book. He enjoys the cutting edge of technology, all things Internet publishing and social media, as well as travel, sailing and scuba diving.
Steven is a frequent IWOSC workshop leader and panelist on marketing, social media, and website development, and is currently writing So You Want to Write a Book… and working on several Internet projects to help writers develop their author platforms. He lives in Los Angeles with his wife and four children.
Registration info
IWOSC members – free
Non-members – $15
Reservations via this RSVP form are required for all attendees.
For non-members, payment form or instructions follows your RSVP submission.
Deadline: space permitting, noon Sunday, the day before the meeting.
Payment options (detailed again on the next page):
You can pay online by credit/debit card or PayPal balance. You'll be taken to PayPal.com, then returned to this site.
If you're uncomfortable paying online, you may pay at the door by credit card, check payable to IWOSC, or cash at the door.
RSVP for this panel
Please use this form to RSVP.
[wpforms id="10062″]
If you are not taken to a new page upon clicking the button above, review the form to see what you have omitted.
Remember, if you have a blocker such as Earthlink's Boxbe, you must add info at iwosc.org to your OK list to see your confirmation.
If you have questions, please email our usual address — info at iwosc.org — or call us at 310-773-8075.