Welcome to IWOSC
Independent Writers of Southern California
If you're a writer in the Los Angeles area or Southern California, at any level of your writing career, writing in any genre, we welcome you.
IWOSC provides writers of the greater LA or Southern California area with many opportunities to get together: seminars, panel and more! More about what we offer.
Our Upcoming Writers' Events
Panel


"You've Graduated – So Now What?"
Building a Career — and Getting Your Foot in the Door as a Young Writer Today

Monday, October 24, 2016
7:30 to 9:15 p.m.
(networking follows the program)
Free for IWOSC members
$15 non-members
It was never easy to begin a career in writing, journalism, or entertainment — but despite the advances made by women and people of color, it often seems like the barriers, obstacle courses, and glass ceilings getting past the "gatekeepers" has gotten harder for everyone over the past 15 or 20 years, not to mention since the 2008 meltdown.

This month's writers' panel is part of a two-part, end-of-the-year look at the nuts-and-bolts of getting (and keeping!) employment as a writer.

Scheduled topics will include:
How to apply for jobs in online journalism and Hollywood — do's and don'ts
What are editors, literary agents, and human resources screeners looking for — and what do they demand — in young, starting-out writers
more listed on the Panel's page
On November 21 we take on the topic of Ageism in Writing: How Young Do You Really HAVE to Be?"
Seminar
Get on GetPublished! Radio
The Inner-workings of an Actual Podcast
Saturday, October 15, 2016
10:30 a.m. to 1 p.m.
IWOSC members: $15
Non-members: $35
Bring your most perplexing questions about writing and self-publishing to this on-location recording of an hour-long GetPublished! Radio episode.
Since its launch last April Fool's Day, GetPublished! has gained listenership steadily.
GetPublished! announcer Bill Navarro quips that host Gerald Everett Jones has the answers – because he's already made the mistakes himself.
So, bring your questions to this recording session, step up to the mic, and challenge him on the air!
Also calling him out will be the show's new, we'll-see-about-that Millennial co-host, Cheyenne Cockrell.
Gerald and Cheyenne will be joined by some special guests who will bring their own surprises.
Satellites— Informal sessions for writers
IWOSC's monthly drop-in satellite sessions are free and open to all writers — both members and non-members.
From Orange County to Pasadena to the San Fernando Valley, IWOSC has writers covered. Bring your writing, your ideas, problems, questions, and complaints. Receive support, laughs, juicy controversy, and plenty of networking. If there isn't a satellite in your area, we welcome having you create one.
Our local area satellite groups for writers are: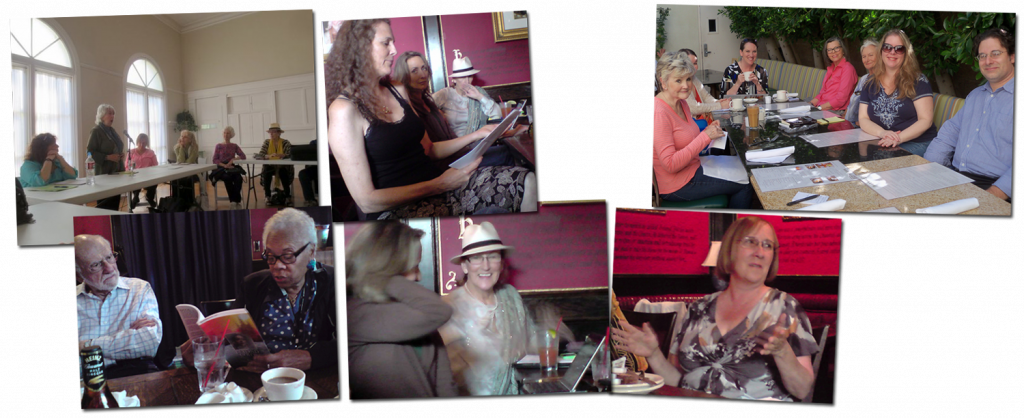 Summer Party Fun
On August 27, we had our annual summer get-together. This time, we enjoyed the cooler air of San Pedro.