Independent Writers of Southern California
IWOSC Welcomes you
If you're a writer in the Los Angeles area or Southern California, at any level of your writing career, writing for yourself, for magazines or ezines, working a screenplay or editing copy, or working on a book — writing in any genre, we welcome you.
IWOSC provides writers of the greater LA or Southern California area with many opportunities to get together: seminars, panel and more! Our About page has more about the educational and informational events we offer for writers…
Our Upcoming Writers' Events
Seminar – online Webinar
The Self-Publisher's Toolkit with IngramSpark
Tuesday, February 6, 2018
7:00 p.m.
IWOSC members: $5
Non-members: $15
As writers, we know that writing a great piece is only part of our task. Along with the writing and editing, we have the challenges of publishing our work. That's why, in February, we are hosting a special WEBINAR with IngramSpark, one of the main producers of print-on-demand and e-books.

IngramSpark offers the same products and services enjoyed by big-time publishers—superb quality and industry connections backed by decades of experience—made accessible to the indie-publishing community from one award-winning platform.
We will discuss the following topics as time permits:
Print on Demand as a way to create and sell quality printed books without a massive print run.
E-book publishing
Formats
Reach to 39,000+ retailers and libraries worldwide and 70+ major online retailers.
Marketing
Our January Seminar:
If you're looking for our January seminar which was to be Grammar for Grownups (an important part of the writing process) with Flo Selfman, the good news is that you haven't missed it. Our fabulous long-time meeting location had some space challenges so we have postponed this seminar to help the Vets Center accommodate what it needed to.


Panel
Food and Travel Writing
Monday, January 29, 2018
7:30 to 9:15 p.m.
(networking follows the program)
Free for IWOSC members
$15 non-members
Have you dreamed about traveling the globe, staying in top hotels, going on high-end cruises, or dining at the best restaurants? And do you want to learn how to get PAID for it as a travel writer?
After celebrating its 35th anniversary as one of LA's longest-running professional writers' organizations, IWOSC starts off 2018 with a star-studded panel on Travel and Food Writing.
We'll be talking about issues like:
How to "break in" and establish your credibility and brand as a travel/food expert.
Ethics — how much of travel and food writing is a "paid vacation," and how much is TOO much? Can one accept freebies, gifts, and so forth?
And much more
Satellites— Informal sessions for writers
IWOSC's monthly drop-in satellite sessions are free and open to all writers — both members and non-members.
From Orange County to Pasadena to the San Fernando Valley, IWOSC has writers covered. Bring your writing, your ideas, problems, questions, and complaints. Receive support, laughs, juicy controversy, and plenty of networking. If there isn't a satellite in your area, we welcome having you create one.
Our local area satellite groups for writers are: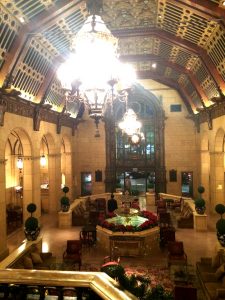 Annual Holiday Party!
Wednesday, December 6, 2017
Writers, scribes, and guests gathered for our special holiday evening — not just IWOSC's annual holiday party but our 35th anniversary.
We were back at the Biltmore, one of LA's most beautiful historic buildings.
Members, new-comers, and Directors networked, schmoozed, and enjoyed a lavish buffet dinner
IWOSC Reads Its Own
Sunday, August 6, 2017
Twice a year we have a special FREE event — an entertaining afternoon of eclectic readings of their own writing by some of IWOSC's talented member writers — and it's open to everyone.
Location:
Vroman's Bookstore in Pasadena, California
Learn more….