Independent Writers of Southern California
IWOSC Welcomes you
If you're a writer in the Los Angeles area or Southern California, at any level of your writing career, writing for yourself, for magazines or ezines, working a screenplay or editing copy, in any genre, we welcome you.
IWOSC provides writers of the greater LA or Southern California area with many opportunities to get together: seminars, panel and more! Our About page has more about the educational and informational events we offer for writers.
Our Upcoming Writers' Events
Seminar
Method Writing:
An Organic Approach to Writing
with Jack & Josh Grapes
"Method Writing" is an organic approach to writing, much as method acting is an organic approach to acting, stressing inner process and deep voice. This writing method consists of various concepts that take the writer through techniques designed to make the writing more compelling and more effective, publishable and productive.
Jack Grapes returns to us by popular demand.
Panel


Websites for Writers 2017
The why, what, how and help! of having a great website

So, how's your website working? With all the social media available, does a writer really need their own website? And if you have one, what should you be doing with it nearly 20 years into the new millennium?

So much has changed so fast; what should you be doing today?

You have questions. Our web-savvy panelists have answers.
Also coming up


IWOSC Reads Its Own

Sunday, January 22, 2017

2 to 4 p.m.
Free to all

Writers Read their writing!

Twice a year we have a special event — an afternoon of eclectic readings by some of IWOSC's talented member writers. This entertaining afternoon is free and open to all.

Location:
Vroman's Bookstore
695 E. Colorado Blvd
Pasadena, California 91101
626-449-5320
Satellites— Informal sessions for writers
IWOSC's monthly drop-in satellite sessions are free and open to all writers — both members and non-members.
From Orange County to Pasadena to the San Fernando Valley, IWOSC has writers covered. Bring your writing, your ideas, problems, questions, and complaints. Receive support, laughs, juicy controversy, and plenty of networking. If there isn't a satellite in your area, we welcome having you create one.
Our local area satellite groups for writers are: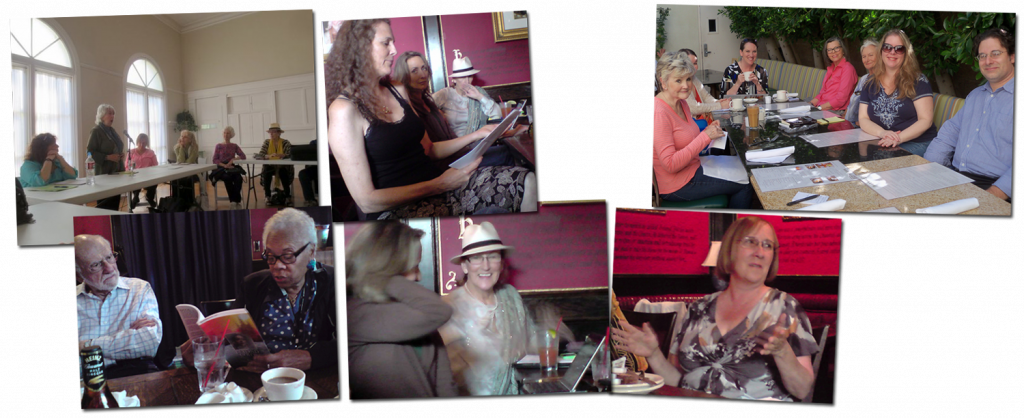 Winter Party

In December we put our Seminar and Panel on held and as is our tradition had a holiday party instead. Our members and some first-timers shared some nice socializing and networking time.
On Wednesday, December 14, 2016, 45 of us enjoyed an evening in the lap of architectural splendor as we got to know one another better and celebrate the holidays at the beautiful Millennium Biltmore Hotel in Downtown Los Angeles.
We mingled in the Rendezvous Court. A great-sized group of us got to know the Biltmore Hotel's history and architecture thanks to the Los Angeles Conservancy and particularly our docent, Kathleen.
Then it was time for us to all enjoy our dinner at Smeraldi's Restaurant.
While we awaited our tasty meal, President Gary Young filled us in on some of what IWOSC is working on for the new year.
Later, after dinner, many had the surprise of winning a door prize and enjoyed making their selection.
With so many interesting people to meet, get to know and learn from, the evening ended all too soon.