Welcome to IWOSC
Independent Writers of Southern California
If you're a writer in the Los Angeles area or Southern California, at any level of your writing career, writing in any genre, we welcome you.
IWOSC provides writers of the greater LA or Southern California area with many opportunities to get together: seminars, panel and more! More about what we offer.
Mingling and a fine holiday meal at the Biltmore
In December we put our Seminar and Panel on hold so everyone has time for their families and myriad festivities.
We do, however, hold a holiday party so our members and anyone else who is interested in getting to know us, can share some nice socializing and networking time.
Join us in the lap of architectural splendor as we get to know one another better and celebrate the holidays at the beautiful downtown Millennium Biltmore Hotel!
Registration closes at the end of this weekend.
Wednesday, December 14, 2016
We'll be mingling and having no-host cocktails in the Rendezvous Court from 6 until dinner. This year we're also starting a casual book swap. Join us as you can.
Or
6:15 p.m. —  Hour-long LA Conservancy-led Biltmore tour. Limited to 15 people, priority to first-timers.
7:30 – 10:00 p.m. Dinner, and just maybe… some great prizes.
Millennium Biltmore Hotel:
Rendezvous Court & Smeraldi's Restaurant
506 South Grand Avenue
Downtown Los Angeles, CA 90071
Learn more about our party and register to attend…
More for December
Three of our five satellites will be meeting, and all writers are welcome at them.
There is no charge to attend a satellite meeting.
Jump to full satellite list.

Our November 2016 Writers' Events
Seminar
WordPress For Writers 2016
with Steven Sanchez
Again and again, writing experts agree that WordPress is THE way to publish your website to the Internet.
Given WordPress' popularity and nearly unanimous recommendation for writers, we presented this popular class for LA writers to get questions answered, learn whether WordPress is right for them and discover what the next steps might be to make their lives easier and get their writing out to the world.
Panel


Ageism in Writing: How young do you really HAVE to be

Many professions have the burden of the issue of age, defined differently in every profession.

Southern California writers joined us for a lively discussion as we looked at how it exists in the publishing world and other outlets for our writing efforts. We explored pitfalls that our panel have seen, some creative work-arounds that they have discovered, and some thankfully creative oversights that actually opened the door for them.
Satellites— Informal sessions for writers
IWOSC's monthly drop-in satellite sessions are free and open to all writers — both members and non-members.
From Orange County to Pasadena to the San Fernando Valley, IWOSC has writers covered. Bring your writing, your ideas, problems, questions, and complaints. Receive support, laughs, juicy controversy, and plenty of networking. If there isn't a satellite in your area, we welcome having you create one.
Our local area satellite groups for writers are: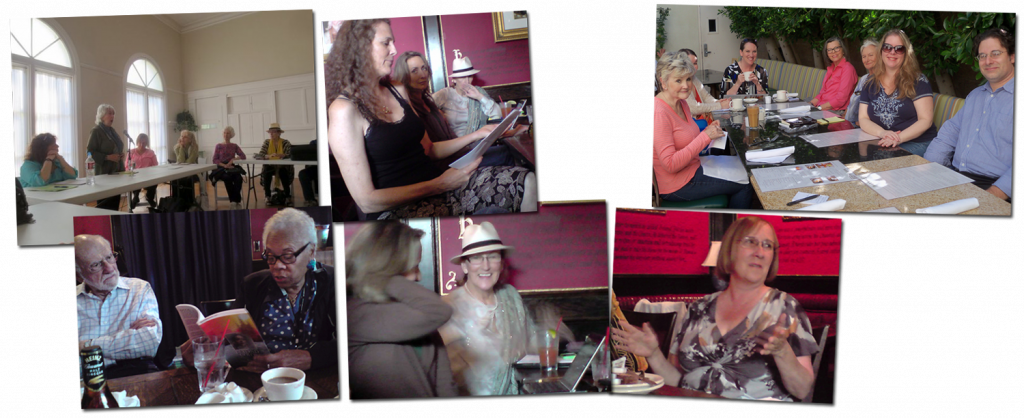 Summer Party
On August 27, we had our annual summer get-together. This time, we enjoyed the cooler air of San Pedro. If you know an interesting restaurant where we can hold our December dinner party, please let us know.